Our Guide to touring the Outer Hebrides in a Campervan
There is no better way than touring the Outer Hebrides in campervan to see this wonderful part of Scotland and the world! In order to preserve this stunning landscape and it's friendly local communities that have looked after it for centuries, please be aware of the following recommendations:
Respect the local community when wild camping in the Outer Hebrides and make sure that your campervan is not parked up close to resident housing. This is the islanders home and whilst many welcome the economic gain from increased tourers, their privacy should be respected. They have chosen to live in this isolation and work hard to retain it throughout the year so that visitors have the facilities they have when touring Outer Hebrides in campervan
If you are unsure where you are allowed to wild camp when touring Outer Hebrides in campervan , arrive late, depart early and leave no trace.
3. Ensure you dispose of your waste responsibly. This is a unique natural environment and any changes to it will have a huge detrimental impact. Find out where waste disposal points are around the island before you begin your road trip to the Outer Hebrides. Never, under any circumstances, dispose of your waste in the local toilet facilities.
4. If wild camping without a portable toilet in your campervan, take a trowel and dig deep for any human waste (if you are caught short) and take a sealed plastic bag for tissue and wipes. Do not leave them to rot in the ground.
5. When touring Outer Hebrides in campervan, respect the delicate natural fauna and keep your campervan off of verges. Parking on the grassy hillsides can cause serious damage not only to plants but also to the insect and animal world it supports.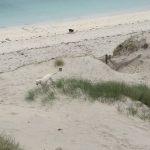 6.The roads around the Outer Hebrides are exceptionally narrow and in our opinion are not wide enough for large motorhomes. We would recommend that short wheel based campervans are the ideal size to tour around the Outer Hebrides in. Not only will it ensure a stress free holiday for you but you will also ensure that the roads are not blocked. Maneuvering into small passing places in a large motorhome can cause major congestion as the roads are not suitable for larger vehicles.
7. Tread carefully when walking or cycling around the Outer Hebrides. The Outer Hebrides offer sanctuary to an incredible array of nesting bird life so make sure you tread carefully when out hiking and keep dogs on leads around grass land.
8.Shop locally and eat out! All too often we watch our customers unpack their groceries from their local supermarkets south of the Highlands and Islands of Scotland. The damage is two fold. Our customers struggle to find adequate storage space in their campervans for their weekly food shop and spend the whole week stepping over shopping bags; and the relationship between campers and local communities becomes strained because these communities are not getting a financial gain from the increased pressure on their facilities. We are blessed by the friendly culture of Scottish people but it stands to reason that if visitors do not spend money when they visit that locals will become frustrated at their loss of privacy for no financial gain. If Scotland is to invest in it's infrastructure to support its growing popularity then it is imperative that visitors spend money in these local communities that can then be reinvested for the benefit of all.
9. Ensure you do not park your campervan in a passing place when touring Outer Hebrides in campervan.
10. Finally, be aware of others on the roads. The raised seating in a campervan offers the perfect view for your road trip meaning you are likely to be driving slowly as you view the stunning Scottish countryside. Please be aware that others may have to get to work or meet ferry times and pull over to let them pass where possible.