Hire one of our brand new 2017 T6 VW Campervans or our 2016 T6 VW Campervan for a luxurious camper van holiday in Scotland. Both 2016 and 2017 VW Campervan models are exactly the same layout and seat and sleep up to 4. Our VW Campervans have diesel fueled heating and air conditioning, and offer a luxurious and easy to drive option for your campervan touring holiday around Scotland.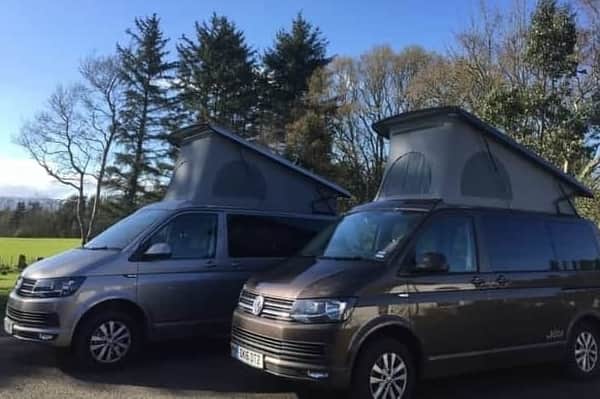 'Sandy' and 'Mel' are our 2017 T6 VW Campervans and are a mojave beige colour. 'Cammy' is our bronze 2016 T6 VW Campervan. All our campervans are named after our favourite Scottish beaches: Sandwood Bay in the North West Highlands in Sutherland; Achmelvic near Lochinver in Sutherland; and Camusdarach Beach near Arisaig , made famous in the much loved Scottish film, 'Local Hero.'
VW Campervan Specification:
LPG grill
LPG 2 gas hob
50lt compressed fridge
240v/12v electric supply
Mains electric hook up facility
Sink with water supply – hot water available when hooked up to mains
Diesel space heating
140 vhp engine
2 sockets plus 12v
Av 41mpg with stop-start engine for additional efficiency
Manual Gearbox
USB port (powered from car battery when driving)
Short Wheelbase
Length: 4892 cm
Width: 1904 cm
Height (Roof Down): 2080 cm
Height (Roof Up): 3280 cm
The living area of the VW campervan is spacious and versatile. The put away table positions in the centre of the campervan for sociable dining with the front passenger seat swiveling round to face the rear of the campervan.
The VW campervan kitchen is located behind the driver seat and all our campervans come with integrated fridge, twin gas hob, gas grill, plus sink with hot/cold water supply plus a fully equipped kitchen. There are two additional storage cupboards which are fully equipped with kitchen equipment (See inventory below.)
The rear sofa seat of the VW campervan converts to a double bed to sleep two adults with two large storage cupboards below. All windows are fitted with black out curtains to enable a comfortable night sleep during the long day light hours our Scottish summers offer.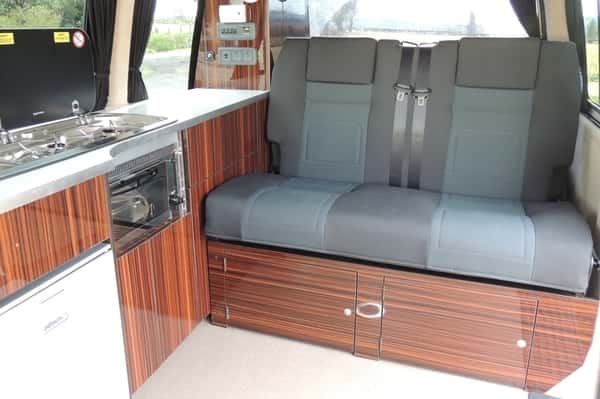 The rear hinged rising roof of the campervan is fitted with 3 windows to offer a light and airy living and sleeping space with the raised roof bed accommodation sitting level with the base of the windows. The roof bed sleeps either one adult or two children up to 150kg in weight.
The VW Campervan boot space is accessed through a tailgate door to ensure you keep dry no matter what the Scottish weather throws at you! With ample storage both below and above the rear facing seat, the boot also accommodates two storage cupboards to house the folding camping chairs and table and BBQ plus the gas cylinder.
VW Campervan Inventory:
The VW Campervan comes with a compact kitchen with 2 storage units plus additional storage located under rear passenger seats. Our campervan is well stocked with 2/4 dinner plates, 2/4 side plates, 2/4 bowls, 2/4 mugs,2/4 plastic tumblers, 2/4 wine glasses, 6 knives, 6 forks, 6 spoons and 6 teaspoons. Also provided are 1 tin opener, 1 bread knife, 3 sharp knives, 1 scissors, 1 potato peeler, 1 wooden spoon, 1 fish slice, 1 tongs, 1 draining spoon, 1 cork screw.
Also provided are 1 small pot with draining lid, 1 large pot with draining lid, 1 non-stick sauté pan with lid, 1 colander.
For your safety we provide a fire blanket, fire extinguisher and carbon monoxide alarm.
Take a look at our video here to see what's included in your hire
Storage in your campervan:
There are several storage compartments in our campervans.
As well as a spacious fridge with small freezer compartment, the campervan has a storage cupboard holding plates and starter pack below the grill and hobs.
There is also a storage compartment underneath the side worktop which holds mugs and cups and bowls.
Above the work top there is a small shelf running along the side of the campervan.
Underneath the rear seats there is further storage. On one side there are two boxes for pots and pans and groceries. On the other side there are two basins and a storage area of 46cm x 50cm x 30cm (height). If you have ordered the porta loo for your campervan hire then this will go in this free space.
The rear of campervan has further storage with measurements of 105cm x 55cm.
This is split into two parts by the rock and roll bed in your campervan with heights of 42cm and 60cm.
Which Motorhome Guide
The Jobl Kampa campervan conversion offers a truly luxury campervan that is comfortable and well laid out. Please watch the WHICH MOTORHOME GUIDE below to see how it compares to industry standards