Looking for VW Campervan Hire Scotland? Our fleet of brand new 2022 and 2020 VW California Ocean and 2021 VW Jobl Kampa Campervans  offer the most luxurious and economical way to tour around Scotland.  If you're looking for the best VW Campervan Hire Scotland, then look no further!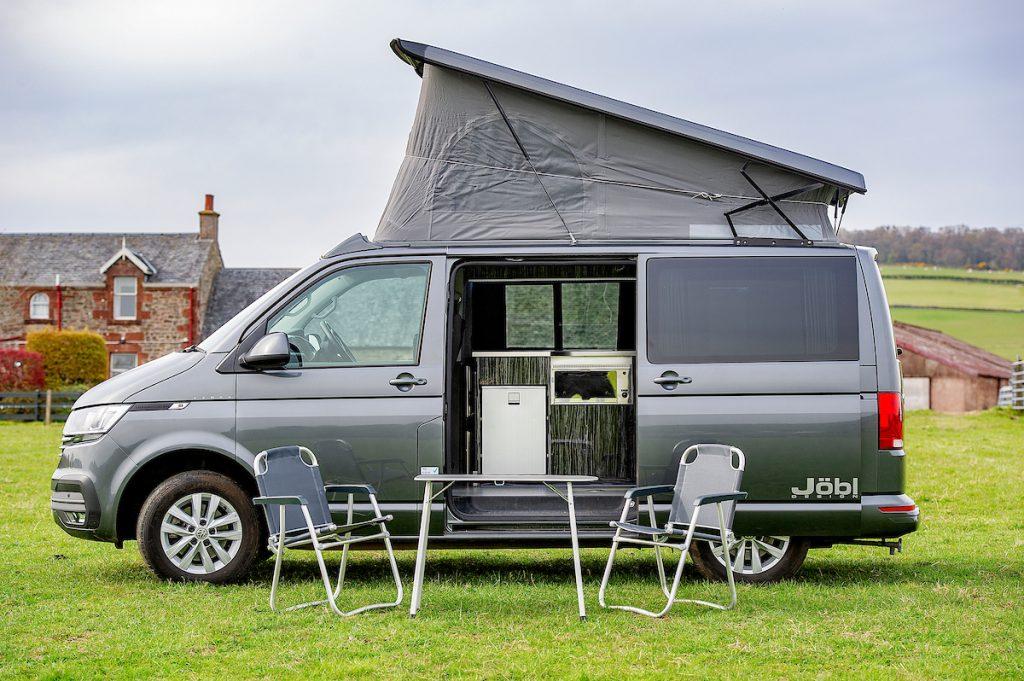 Key Features in our Four Seasons Campers VW Campervans for hire in Scotland
Our VW campervans sleep up to 4 people
Pop Top Roof: the rear seat converts to a double bed with the 2nd double bed is located in the pop up roof
Gearbox Options: We offer automatic (California Ocean and California Coast) and manual (Jobl) gearboxes
Diesel Heating: Can be set to stay on all night ensuring a cosy and comfortable night's sleep
Fuel efficient: Start/stop VW Blue Motion Technology with average of 42mpg over country roads
Integral Satellite Navigation system with DAB + radio (California Ocean and California Coast)
DAB + radio & App Connect (Jobl)
Twin gas hob
Plenty of Water Storage: 60lt Water (Jobl) and 30lt Water (California)
Cooling Facilities: Front Opening Fridge (Jobl) and Top Opening Fridge (California)
Charging Points and Sockets: 240v and 12v sockets with USB ports
Iso-fix seats (California Ocean and California Coast)
Winter Tyres: November to March
All our VW campervans for hire are fully equipped with all essential equipment included in the price
Why we think the VW California Ocean, VW California Coasts and VW Jobl Kampa are the best VW Campervans?
There are lots of VW Campervan hire rental companies in Scotland with lots of different types of VW Campervan conversions. Whilst all of them may offer short-wheel based campervans for hire, not many of them will offer brand new T6.1 models; fewer still will offer quality conversions; whilst fewer still will also offer VW's own factory built California Ocean and California Coast Campervan; and even fewer will offer both automatic and manual gearbox options making for a more relaxing drive around Scotland's narrow and winding roads.
Above all else we favour quality and performance in a campervan and it is on this criteria that we have chosen the VW California Ocean; VW California Coast and the VW Jobl Kampa to hire out. Our campervans offer luxury accommodation in reliable, comfortable and cosy campervans that are a delight to drive. If you are planning a road trip holiday then it is essential that your campervan enhances your journey and your holiday!
VW Campervan Comparison Table
VW California Ocean
VW Jobl Kampa
Awning
✓
Electric Pop Up Roof
✓
Manual Pop Up Roof
✓
Lights in Pop Up Roof
✓
LPG 2 Gas Hob
✓
✓
LPG Grill
✓
Store for 907 Camping Gaz - 2.75 kg Butane
✓
✓
Sink with Cold Water
✓
✓
Hot Water when hooked up to electrics
✓
Fresh Water Tank
30lt
60lt
Waste Tank
30lt
30lt
50lt Compressed Fridge with Ice box
✓
42lt Cool Box
✓
Diesel Space Heater
✓
✓
Passenger Side Sliding Door
✓
Driver Side Sliding Door
✓
Blackout Curtains/Blinds
✓
✓
Pop Up Roof Bed
200cm x
120cm
200cm x
110cm
Converted Rear Seat Bed
200cm x
114cm
180cm x
120cm
Manual Gearbox
✓
Automatic Gearbox
✓
Length
4892cm
4892cm
Width
1904cm
1904cm
Height (Roof Down)
2080cm
2080cm
Height (Roof Up)
3280cm
3280cm
Diesel Engine
150bhp
110bhp
Short Wheelbase
✓
✓
Integrated camping table and chairs
✓
USB Ports
✓
✓
240v/12v electric supply and sockets
✓
✓
Mains electric hook up
✓
✓
240V European Socket
✓
Isofix Fittings x 2 in rear bench seat
✓
Child safety net for roof bed
✓
Hanging wardrobe with vanity mirror
✓
Heated Driver and Passenger Seat
✓
Campervan Equipment Included in your Hire
The VW California carries a premium price as it is the only VW Campervan that is factory built made by VW themselves. It has the following quality features :
Quality front cab – this is a luxury car as well as a luxury campervan and you can tell immediately that this is a £60,000 + vehicle
Effortless Controls – the electric pop up roof with lighting in the upper bed plus controls for the heating system are top of the range. The controls offer numerous options for temperature control in both the front and back cab area
Abundant storage – the California Ocean has excellent storage compartments including cutlery drawer and hanging wardrobe
Optional Layout of Campervan – the sliding rear seat to allow for various options on layout
We think the Jobl Kampa campervan is the best VW Campervan conversion out there and despite it being cheaper than the California Ocean, it has some features that are superior:
Large watertank – holding 60lt of fresh water, the Jobl is far superior to most other campervans for hire and great for those who enjoy wild camping
The 50lt compressed fridge with freezer box offers plenty of space to keep food and drink cold as you tour the wilderness
The hot water tap is very convenient for washing dishes – please note that electric hook up is required for this
Spacious lounge area – the position of the rear seat creates a large lounge area in the Jobl
VW Campervan Hire Scotland – Videos of our 2 VW Campervans
Which Motorhome Guide for the Jobl Kampa campervan
The Jobl Kampa campervan conversion offers a truly luxury campervan that is comfortable and well laid out. Please watch the WHICH MOTORHOME GUIDE below to see how it compares to industry standards for VW Campervan Hire Scotland
The Practical Motorhome Volkswagen California Ocean campervan review
The California Ocean campervan conversion offers a truly luxury campervan that is comfortable and well laid out. Please watch the The Practical Motorhome Volkswagen California Ocean video review guide below to appreciate the abundance of unique features for VW Campervan Hire Scotland