Our VW California T6 Highline Campervans
Our brand new 4-berth VW California Ocean campervans are ideal for couples and families with their spacious living area and mezzanine bed area with plentiful storage compartments. Built in Germany, the VW California Ocean is VW's luxury campervan model and has a number of features that make it a state-of-the-art luxury campervan. To view The Practical Motorhome VW California Ocean Review and see how it compares to industry standards please click here. To view equipment included in both our VW California Ocean campervans and our Jobl Kampa campervans please click here.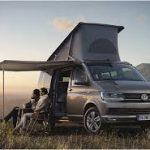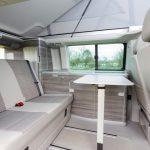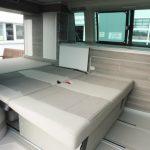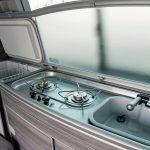 ---
Living Area
---
The California campervan offers a versatile living area with the ability to move the rear bench seat forward and backwards to extend either the living or boot space as required.
The table hooks onto the side kitchen units on the passenger side of the vehicle. It can be positioned either in the centre of the campervan for sociable dining or pushed towards the front or the rear of the campervan
Both front passenger seat and driver seat can swivel round to face the rear of the campervan and the dining table.
All windows are fitted with blackout blinds to enable a comfortable night sleep during the long day light hours our Scottish summers offer. The rear hinged electronic pop up roof of the campervan is fitted with 3 net windows to offer a light and airy living and sleeping space with separate interior lights.
---
VW California Ocean Kitchen
---
The VW California kitchen is located behind the passenger seat and comes with the following appliances
Integrated top opening fridge with temperature control
Twin gas hob
Sink with cold water supply
Fully equipped kitchen

There is a double slide door opening twin storage cupboard below the sink and hob to hold all of the kitchen equipment
A cutlery drawer is incorporated under the sink.
---
VW California Ocean Beds
---
The rear sofa seat of the VW campervan converts to a double bed to sleep two adults
The rear bed of the California Ocean measures 2m x 1.14m
The double upper roof bed also sleeps two adults and is accessed from standing on the passenger seat.
The roof bed in the California Ocean measures 2m x 1.2m.
There is an option to fix a child safety net for toddlers and babies.
---
VW California Ocean Storage
---
There are numerous storage compartments in our VW California campervans.
The VW California Ocean Campervan boot space is accessed through a tailgate door to ensure you keep dry no matter what the Scottish weather throws at you!
A twin shelved cupboard below the hob and sink unit with cutlery drawer
ith a large full width drawer below it.
A half height wardrobe with rail, vanity mirror and interior light behind the fridge unit measuring 5ocm x 40 cm and 90cm high.
A double drawer below the rear passenger seat measuring 66cm x 48cm x 20cm. The awning ratchet conveniently clips into the lip of the drawer.
The storage area for the luggage in the boot space is split into two. The lower compartment measures 90cm x 100cm and 33cm high whilst the upper compartment measures 80cm x 100cm and is approximately 60cm high.
There are two storage compartments to the side of the boot space. The upper cupboard measures 37cm x 27cm x 70cm height with 3 shelves splitting this into 23cm heights. The lower cupboard houses the gas cylinder.
A convenient slim line drop down shelf is also located above the rear passenger seats.
The outdoor table is stored in the sliding side door.
The two California outdoor chairs are housed in the tailgate door with an additional two camping chairs available
---
VW California Ocean Specification
---
Awning
LPG 2 gas hob
42lt top loading compressor cool box
240v/12v electric supply
Mains electric hook up facility
Sink with cold water supply
Fresh water tank 30lt
Diesel space heating
Electronic Pop up roof
Upper double bed 200cn x 120cm
2 seater bench bed 200cm x 114cm
150 vhp diesel engine
3 sockets – 12V, 240V *, 240 V European*
Driver side sliding door
Av 41mpg with stop-start engine for additional efficiency
Automatic 7 speed Gearbox
Cruise control
USB port (powered from car battery when driving)
Camping Table and Chairs integrated in tail gate
Electrically operated sliding side door on drivers side
Built in blinds
Short Wheelbase
Length: 4892 cm
Width: 1904 cm
Height (Roof Down): 2080 cm
Height (Roof Up):3280 cm
Cold Shower portal in rear cupboard
Isofix fittings x2 in rear bench seat
Lights in pop up roof
Rear half wardrobe with rail, vanity mirror and light
Storage for outside chairs and table within rear and side doors
Store for 907 Camping Gaz – 2.75kg Butane
Heated driver and passenger seats