Read our 5 Star Camper van Customer Reviews before you book your next camper van holiday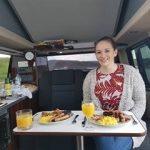 Customer satisfaction is of paramount importance to us and the reviews from our customers are testimony to the personal care and advise we offer, as well as the quality of our camper vans. Whether you are new to holidaying in a camper van, or have never visited Scotland before, we are on hand with advise and support to ensure that you have a relaxing and memorable camper van holiday and get the most out of your tour around Scotland. Our campervans have been thoughtfully kitted out with everything you need for your camper van holiday and our pricing includes all essential equipment to allow for easy booking and payment of your holiday. Take a look at our campervan customer reviews below or look at our camper van customer reviews on our Trip Advisor Page by clicking here.
---
Mike – Glasgow- November 2021
(5 / 5)
Mine and my wife's third time renting with these guys and its always a pleasure. Such good communications beforehand and very accommodating to make our time away very special. On top of the service the vans are amazing and in great condition with no hidden costs. No need to go elsewhere
---
Jack- Falkirk- November 2021
(5 / 5)
Had the best few days away in one of the California VWs. Accomidated both our needs for adventure and comfort. The vans were easy to drive, sparkling clean, and catered to of our needs (even ones we didn't know we needed)! Liz and her team couldn't have been more helpful and friendly throughout the whole process, even offing us assistance late on a Friday night, as I forgot how to put the awning away properly! Can't recommend Four Seasons Campers enough and can't wait to use them again.
---
Eccossaire – Arbroath – November 2021
(5 / 5)
Seasoned canvas campers, so this was our first experience of a tin-tent – Absolutely Tremendous. From the get-go the service provided was first class, thorough and friendly. The VW California was a superb vehicle, easy to drive,comfortable,and well equipped. This was a fantastic taster for us and #fourseasonscampers were faultless on all levels – Thank You.
---
Sylvia- Glasgow- October 2021
(5 / 5)
My partner and I hired a camper for 5 nights, we brought my 7 year old and our dog. We had a fabulous time doing the North Coast 500 and added a stay in Skye. Wonderful camper, loads of room and so comfortable! Best service from the Four Seasons guys getting us set up, giving advice and easy handover when we were back, thanks so much. Would definitely recommend and we'll be back, can't wait to do it again!
---
Brian- Glasgow- October 2021
(5 / 5)
NC500 tour and first time Campervan trip: We toured the NC500 between 26th June to the 3rd July in a fourseasons camper van. We were newbies to the whole camper van experience but we quickly got up to speed with the help of fourseasons. They helped both in terms of planning the route and also an excellent handover of the van at the start of the trip. We had an amazing week which was also helped by excellent weather. Our 4 year old watched the instruction videos on the four seasons website at least a dozen times as she was very excited about the trip! We were surprised at how comfortable the camper van was both at night and in terms of driving. We loved waking up in new locations each morning. Would strongly recommend four seasons if you are looking to hire a camper van!
---
Mary- West Lothian- October 2021
(5 / 5)
We booked this trip to see if campervanning was fun in the off season with colder and shorter days. It was fabulous! The vans are so warm – we had the heater on the lowest setting and actually turned it off (t was around 4 degrees outside). We slept like babies after lovely autumn hill walking – comfier bed than at home (lol). Cooking was a breeze after we worked out some logistics/how to best use the space and the vans are really well equipped. We wild camped for 3 nights (not as easy to find safe and responsible places as we thought it would be) and stayed at a camp site on one night.
We loved the van – easy to drive and manoeuvre too. Watch the videos they send – excellent how to guides. Thanks Four Seasons – we had a memorable trip through a few big Glens.
---
Sylvia- Paisley – October 2021
(5 / 5)
Hired a camper for 5 nights to do North Coast 500, 2 adults, one child and our dog. We had a fantastic time, camper was affordable, very roomy with loads of storage space, fridge and cooker. Everything we needed was provided and the staff were on hand for tips and advice if needed. Would definitely recommend and we are already planning our next trip!
---
Molly – Edinburgh, – October 2021
(5 / 5)
Great Campervan to See Beautiful Scotland
We spent 6 nights in one of the California Coast campers (Monty) driving the NC500 and visiting Skye.
The van had everything we needed and was a great place to spend our holidays. A brilliant entrance into the campervan world and we have absolutely no complaints.
The team at four seasons were so friendly and welcoming, always happy to answer any questions we had. Definitely something we would love to do again and have already started recommending four seasons campers to all our friends and family.
---
Helena- Scotland, UK, – September 2021
(5 / 5)
An amazing experience! Even with being in the pandemic, there was great communication up to and through out the trip. The campervan we hired was clean and spacious, and had all the essentials for our travels. Would definitely recommend to everyone!
---
Karen- Cheshire – September 2021
(5 / 5)
Outer Hebrides in Woody VW California Ocean
Had a great 3 weeks in Woody covering all the Outer Hebrides Islands. Four seasons Campers were helpful prior to our trip offering links to site options and the van was clean and had everything we needed for our trip. Woody handled well and was a great size for the narrow single land roads; the automatic pop up roof was easy to use. Found Four season Campers professional and friendly, I would use them again and recommend to friends.
---
Lisa-Kent- September 2021
(5 / 5)
Made NC500 even more incredible than it is!
We cannot fault Four Seasons, an amazing service throughout this started as soon as we booked online and once in Scotland the staff couldn't be anymore helpful. A brand new campervan that made the whole trip a real pleasure, for two adults and a dig. We will definitely be back to explore more in the future.
---
Scott- Livingston- September2021
(5 / 5)
We hired a VW JOBL camper van for just over a week so we could complete the NC500. The company, staff and equipment is all absolutely first rate. I cannot recommend them highly enough!
Having never really used a campervan before I was a little worried about how everything would work but the material provided (instructional videos) quickly helped ease any concerns. The staff at the farm also give you an overview on how to use everything.
The van itself was impeccable and came with everything that we needed to live more than comfortably for a week on the road.
If your looking to hire a great campervan from a class outfit then look no further! Use these guys, you WILL NOT BE DISAPPOINTED!
---
Charlotte- Glasgow- September2021
(5 / 5)
From the start of the booking process to the end of our trip the four seasons team have been consistently clear, friendly and helpful! I booked a 7 night trip as a surprise for my partner and step son and managed to get them all the way to pick up without them knowing what was planned. Our trip took us from Loch Lomond, anticlockwise around the NC500 and across to skye and back, passing incredible mountain scenery, glass like lochs, amazing coastlines, and a sense of wild peace. Our campervan "Westy" was beautiful to drive, clean and in excellent condition, fully fitted with everything we could possibly need for our trip, aside from our personal items the only thing I added was a small insect killing lantern that we use for camping which came in very handy to keep the midges down.Every member of staff has been friendly and so helpful, the prices and extras are clear and the information provided for the documentation you need is clear. One of the team even guided me via phone when I got hopelessly lost on our way to pick up the camper. Honestly a fabulous company to deal with and an amazing trip of a lifetime. The only single thing I would change would be to make the trip longer!
---
Kim- Glasgow- September2021
(5 / 5)
My Husband and I had an amazing time with our friends Sean and Mary camper vanning around Scotland, The service we received from the four seasons team from start to finish was excellent. Our van "Fin" was spotlessly clean and very functional and comfortable. This was our first time camper vanning and it certainly isn't going to be our last, we look forward to seeing you in the near future. Kim & Mick
---
Jen- Glasgow- September2021
(5 / 5)
Take a bow Four Seasons Campers!
My fiancé and I hired Cammy for 9 nights in August and loved every minute of it! From the seamless pick up to our sad drop off (we could easily have prolonged our holiday), one word comes to mind.. Easy. Everyone at Four Seasons Campers were fab, communication was great and someone was always on hand to reply to any and all questions or concerns we had pre-departure. The vans themselves are fab! They are equipped with everything you could need. From plates and cutlery to a camping table and chairs for outdoor chilling. We really couldn't have asked for anything more for our NC500 trip. Such an easy, comfortable drive as well, it handled the 1060 miles we did with ease and really gave us the holiday of a lifetime, helped a little by the glorious weather we had (see picture attached). The van was a really comfortable living space for the two of us and we can't wait to book up for our next adventure. The van was immaculate when we picked it up and cleaned to a very high standard, this was cemented when we returned and witnessed the boys out scrubbing, hoovering and cleaning the vans, doing a great job that even Mrs Hinch would be proud of!
We took the towels and bedding provided by four seasons which was one less thing we had to think about, both of which were great. The only thing we chose to pick up on our way were two extra pillows as we're fussy sleepers and both like two pillows but that's just personal preference!
Take a bow Four Seasons Campers, amazing holiday thanks to you all!!
See you soon and thank you again 🙂
---
Thea- Glasgow- August2021
(5 / 5)
Ideal for a first camper hire in beautiful…
We had such an excellent experience with Four Seasons – from booking to returning the van the whole team was so friendly and accommodating, easy to contact for any questions and the van was ideally equipped for our trip. They have thought of everything and it is of very high quality throughout – an ideal hire company for a touring trip near or far!
---
Clinton- Dumfrise – August2021
(5 / 5)
Brilliant week away touring 🏴󠁧󠁢󠁳󠁣󠁴󠁿
Me, my partner and our black Labrador went touring the Isle of Skye, Isle of Harris/Lewis and the west coast NC500 for a week in the vw transporter jobyl. Four Seasons Campers are absolutely great and went that extra mile to make sure our time away was as comfy as possible. Great memory's were made. Fantastic that they are dog friendly to. I highly recommend hiring with this company. You will not be disappointed. Thank you to all the team at four seasons campers.
---
Hannah- Glasgow- August2021
(5 / 5)
Utter perfection… We couldn't have asked for anymore from four seasons. Liz and Becky were fantastic with communication prior to our trip. Louise is an absolute credit to the company – she made the van handover seamless and we set off on our Scotland adventure with a smile on our faces because of her. The van (Fin) itself was everything we needed and more. Comfortable, clean, well equipped and very easy to drive. We cannot wait to book another trip with four seasons!
---
Karen- Oxfordshire – August2021
(5 / 5)
We have just had a fantastic 10 day tour in Woody with Four Seasons Campers. Everything from our first contact with Liz and the team was really efficient and super helpful. Becky was really friendly and helpful introducing us to Woody in a very safe way. Woody was incredibly clean and tidy throughout.
It was our first trip to Scotland so we used the 10 night itinerary from their website of the West Coast, Skye and the Cairngorms and used their recommended campsites, we were not disappointed. The scenery at every turn was stunning.
We found the van really comfortable and had all equipment and utensils you could possibly need. We would recommend Four Seasons Campers to anyone who wanted to tour the Scottish landscapes.
---
Sarah- London- August2021
(5 / 5)
Perfect, quality campervan, fabulous service
Can't fault Four Seasons, great service throughout that started before we even arrived in Scotland. A really good quality well maintained campervan that made the whole trip a real pleasure. We will definitely be back to explore more.
---
Alex- East Ayrshire – July2021
(5 / 5)
We recently hired Pearl the Jobl from Four Seasons Campers for our NC500 (+ Skye!) trip and we had a fantastic experience.
Everyone at Four Seasons Campers was very friendly and helpful.
The van was amazing and came with absolutely everything we needed from bedding to pots and pans, BBQ, table and chairs, wine glasses etc. Many companies provide little to nothing. Unlike every other company we checked, insurance for up to 4 drivers was included at no additional cost.
The Jobl comes with a 60L fresh water tank which is great for those nights wild camping! The fridge and freezer provided enough space for what we needed. The storage and layout is very efficient. The diesel heater is fab and really doesn't use much at all.
A very nice touch is that each van comes with a diary that you can record places worth going and seeing, which is great for ideas!
Our wee dog was welcome too, which is greatly appreciated as some companies do not allow pets (which is understandable).
All in all, we had an amazing adventure and have so much more still to see; we would absolutely use Four Seasons Campers again!
---
Mark- Glasgow- July2021
(5 / 5)
Probably the best campervan hire company we have come across, good website with lots of trip info, videos etc. Communication was excellent thought out process, camper was immaculate on pick up, brilliant vw van, new, spacious and everything you could need included. Highly recommended.
---
Jos- Sutton Bonington – July2021
(5 / 5)
Excellent experience! Highly recommended.
I can't recommend hiring a Campervan from Four Seasons enough!
Not only are you getting an incredibly well equipped, excellent condition van, they give you all the advice you need for your holiday from the moment you make contact to the very end.
This was the first time we had ever hired a Campervan let alone been in one, so we wanted and needed a fair bit of guidance. We also asked for recommendations of where to go for our 7 day trip, which were excellent. Nothing was too much trouble. Liz and the whole team are so friendly and knowledgable and they really are there with you 100%.
It really was one of the best holiday experiences we have ever had!
Incredibly dog friendly too!
---
John- Edinburgh – July2021
(5 / 5)
Would like to thank Liz/Louise and rest of the team at Four Season Campers it was a very pleasant and stress free experience from booking to return great service definitely would return.
---
Gordon- London – July2021
(5 / 5)
Excellent and Friendly Service
We hired a VW Coast for a week of touring in June 2021. There was a helpful, detailed (and covid safe) introduction given to operating the vehicle. All our queries were dealt with. The van was clean and well supplied. The return procedure was swift and efficient. All the members of staff we met were helpful and friendly. This all helped to make a very enjoyable holiday.
---
Jim- Northamptonshire- June2021
(5 / 5)
Booking was easy and really clear as to requirements and availability / facilities etc. Collection was easy and the van had everything required for our 5 nights.
We had a great time and the reliability and comfort of the van really helped with this.
Service throughout from booking to collection and then to drop off was straight forward.
Definitely recommended.
---
Nick- Cardiff- June2021
(5 / 5)
We rented a VW California for a week and were really impressed with the high end camper which was scrupulously prepared and came equipped with every conceivable extra. Liz and her team were extremely efficient and very welcoming and provided a super smooth handover. If only they had the same control over the weather……
---
Al- Bath- June2021
(5 / 5)
We rented a Jobl VW van for a 9 day trip to Mull and the highlands. Service was excellent and friendly from first contact through to returning the vehicle. The van felt almost new with only 12k miles and was equipped with everything we needed. We got plenty of instruction in operating the roof, gas, water tanks etc. before setting off. The pickup location was very convenient for our trip. This was our first campervan trip but hopefully not the last and we'd definitely choose Four Seasons again.
---
John- Edinburgh- June2021
(5 / 5)
We could not fault Four Season Campers we had great time on our 5 Day trip to Lake District. The VW California had every thing you need plus.
The team are very friendly and eager to help, Such a smooth pickup and drop off Liz and Louise were so helpful Louise explained every thing when we picked up van. We would definitely use them again.
---
Janet- South Queensferry- June2021
(5 / 5)
First time Campervan adventure
Our hire of a Volkswagen Ocean called "Westie" was professionally organised by Liz and her team, with clear and informative correspondence at all times. This included video demonstrations of how to operate the various campervan functions.
The website was easy to use.
Socially distanced pick up was well organised.
Liz and her team were friendly and helpful, with Becky giving us a full demonstration of the campervan before we started our trip.
The campervan was very well equipped, with best use made of the limited storage.
Four Seasons Campervan hire is in a good location with easy access to main road networks for all of Scotland.
I would highly recommend Four Seasons Campervan hire and hope to use them again soon.
---
Charlie- Glasgow- May2021
(5 / 5)
Awesome service from beginning to end! The van was perfect for our 3 day trip to Skye. We were amazed with the van the space the lot! The team at Four Seasons really do think of everything and when they "All you need to bring is yourself & your toothbrush" they mean it! Will defo be doing another trip! And Highly recommend!!!
---
Joan- Argyll – May2021
(5 / 5)
Our 5 night birthday treat away was fantastic in the California coast. Really well equipped, great central location for collection and heading off. We wild camped every night and didn't even need to fuel up till returning the van. Highly recommended.
---
Newt- Scotland, UK- May2021
(5 / 5)
Four nights this time! Headed straight for Arisaig on night 1 and then through Skye and back up through the Highlands to Torridon.
Took the same camper we had back in August. A Jobl design camper and as last time a real treat. Drives like a VW Golf but as comfortable as any camper or motor home.
Liz and the team at fourseasons were great as always and the new base is brilliant with plenty of space to leave a car behind.
Been back an hour and looking to rebook our next trip.
---
Jenny- Milngavie- May2021
(5 / 5)
Perfect for a long awaited adventure!
Great fun taking a campervan for the long weekend after such a long lockdown. It's easy to drive and park, compact and everything just fits and works well. Even three folk and dog! All had a good time. The additional mattress topper for the lower bunk was really comfy, well worth the small extra charge. we didn't try out the port-a-loo ;>). We've rented before from fourseasons, and will again for sure!
The new pickup place is near Balloch and I think better as it's near to Balloch. Many thanks to all and so glad you're back open.
---
Alan- Glasgow- May2021
(5 / 5)
First Class VW Campervan Rental Company all the way from check in to return
As virgin campervan holiday travellers we could not have picked a better company to have rented with
Liz, the owner's passion, drive, customer care and personal interest was evident throughout
Our rental and holiday was fantastic from start to finish
The website was easy to use, clear and informative and subsequent calls to the office with additional questions or to add extras were dealt with in a timeous, friendly and helpful manner by Becky
Payment of the deposit and balance was straightforward
Tips and help sheets were available to suggest routes and camping sites
The business is ideally located just north of Glasgow to start your journey, particularly if heading up the West Coast of Scotland and the Highlands and Islands
The socially distanced pick up was well organised and the campervan facilities and controls/functions were well and thoroughly demonstrated and explained by Louise
Dropping off at the end of our trip was similarly easy
The VW Ocean Campervan was less than a year old, with only a few thousand miles on the clock and clean and in great condition
Other vehicles in the fleet looked just as good and on our return Liz had just taken delivery of another 4 Jobl conversion VW Kampas which may even have a better internal layout than the factory fit VW Oceans
Our Ocean was fully equipped with maps, guidebooks, torch, cooking pots and utensils etc and clean comfortable pillows, duvets, mattress protectors and sheets and fluffy towels were provided
It also came with a barbecue and external shower attachment and bike rack for 4 bikes
We also rented a portaloo and privacy tent to surround the loo but didn't need to use it as most facilities had opened up from Covid restrictions by the time we departed
As expected the trip and scenery were fabulous and the Campervan performed flawlessly with no need to call upon the provided VW Assist breakdown cover !
All in all we had a fabulous experience and a large part of that was down to the company as run by Liz and her staff.
They are well organised, friendly, helpful and delightful people and exemplify how such a business can and should be run – and I only wish that all leisure interest businesses had the same ethos
I have already sung their praises to friends and colleagues north and south of the border and personally would not look elsewhere to book my next Campervan trip
If I could award them 11 out of 10 I would !
Thanks again to Liz, Louise and Becky
– we look forward to using Four Seasons Campers again perhaps bringing our old dog along the next time too
---
Samantha- UK- October2020
(5 / 5)
Outstanding service from an amazing camper rental…
Repeat business is always a sign of good service and as usual, Liz and her team went above and beyond to ensure we had a fabulous holiday in one of their clean well-equipped vans. The cosy Jobl van we rented in October was ideal for a family of 3 and we were so warm overnight we had to turn the heating down to minimum! It was the perfect way to tour the stunning Scottish Highlands: we were able to relax and forget the craziness of the world for a few days. We'll be booking again next year.
---
Elaine- Glasgow- October2020
(5 / 5)
NC500 trip in VW van from Fourseasons Campers..
Just back from a fabulous trip doing the NC500 in California Coast van named Monty .
Very comfortable and warm at night unlike older vans we have owned.
We stayed at Sango Sands and Clactholl Beach campsites and would thoroughly recommend both. Amazing views and beaches .
Finished off at Applecross and Monty managed the the Bealach na Ba Road no problem , not even fazed by oncoming articulated lorry . Had a wonderful meal in the Walled Garden on our last night .
The super van and super friendly and efficient staff at Fourseasons helped make the trip a holiday to remember .
My wife had to prise the keys off me at end of week to return Monty .
Planning our next trip already !!
---
Sean- Shrewsbury- September2020
(5 / 5)
First time camper van adventure
Booked this adventure after a visit to Four Seasons website. Vehicles on offer were virtually new which attracted us. Hired a camper for 8 days with a view to following one of the itineraries provided by Four seasons on their website. The website contained all you need to know about the hire and correspondence provided prior to arrival gave you a good insight into the vehicles operation. Arrived at Four Seasons to be warmly welcomed by Becky despite the heavy rain. Becky provided us with instruction as well as a full handover of the vehicle. The vehicle itself (coast) met all of our expectations even though we thought we had booked an Ocean the only seemingly difference being an electric roof. The manual roof was very easily operated. The vehicle had been cleaned and prepared for our hire including a full C19 decontamination. As it was our first time we only booked hard standing camp sites however on reflection and having witnessed some fabulous location we would definitely wild camp next time around, off road parking is plentiful, level and predominantly hard standing. We visited some beautiful sites on Skye, Dingwall, Grantown-On-Spey and Braemar not to mention the places of interest and beautiful countryside in between. All in all a fab week topped off by being in an iconic and fab vehicle provided by a superior hire company. We will be back in 2021.
---
Ronnie- Wemyss Bay- September2020
(5 / 5)
Perfect service at short notice
After being let down at the last moment by another hire company I came across Four Seasons online at around 1.30pm Saturday 12th September 2020, by 4.40pm we were on our wagon our west coast adventure.
Four seasons had 1 van (Ken) available that day for 3 nights so we quickly threw what we thought we would need in bags while they sorted out the paperwork their end.
The original van we were supposed to pick up was an older van and we were due the following day so we were in bit of a rush to get ready, however, with everything we needed provided we could leave pretty quickly.
When we got to Four seasons we were delighted to find a new VW California, spotlessly clean, filled with fuel, water and camping gas, ready to go!
We then had a wonderful trip around the west coast of Scotland, stopping at places we have always wanted to see but were too busy to do so, like Kilmartin Glen, Dunnad Fort, Tarbert for a fabulous seafood dinner and Kilberry on the Knapdale peninsula, before making camp in the evening for a very comfortable night.
Avery enjoyable experience throughout.
---
Ella – Brighton – August 2020
(5 / 5)
Renting with Four Seasons couldn't have been easier, and given the circumstances (COVID) we honestly couldn't have asked for more.
The team made everything really easy for us and also we felt totally safe with the procedures that they had in place mid pandemic. Liz and the team are knowledgeable and incredibly friendly and we knew they were just at the end of the phone should we have needed them.
Our van Rosie was perfect and within a day she really felt like home which was so welcomed on our two week trip around the Outer Hebrides and the North Coast. Every small detail was thought of in the van and it was well equipped with the essentials that we needed as well as very well appointed equipment for the kitchen, meaning that we could cook fantastic meals in fantastic scenery.
To anyone looking to rent a camper in Scotland I couldn't genuinely recommend Four Seasons any higher.
---
Kallum – York – August 2020
(5 / 5)
CV-19 and travel restrictions made one thing apparent this year; the staycation is the way forward to have a stress free holiday, and we are so glad we made this decision.
My fiancée and I, along with some other friends decided that the North Coast 500 would be the perfect opportunity to get away from everything; so a campervan was the obvious choice to tour the country.
While researching the internet, I came across Four Seasons Campers and quickly got in touch with them to find out availability and gain a quote. Liz quickly responded telling me everything I need to know, which put me at ease as this is the first time I've rented a van. So that's it the deposit was was paid, and then balance in full when needed. Liz and the team we're also very accommodating regarding departure and arrival times of the vehicle; when we were speaking about our plans it became apparent that our departure from our friends' in Elgin to meet the 10.30 return was a bit of a stretch, and a later return time was requested.
So then it was the journey from York to Loch Lomond to pick the van up (with a few stops along the way of course). We arrived and were met with a very warm (COVID secure) welcome and given a full induction to the van; making sure we knew everything we needed to know to get us on our way and have the best time. I was also really pleased, and surprised to find that the vans were brand new 2020 plate and in perfect condition, like they'd just came from a show room. The van came with bedding and towels and was stocked (on request) with condiments such as olive oil, tea, coffee etc. As well as all the crockery needed.
The vehicles driving was so comfy to drive, with all the mod-cons such as; apple car play, reactive cruise control, air conditioning etc. It made the journey up north and then the more difficult roads an absolute joy.
Time to set camp. We got settled at our first location on the north west coast and put our induction knowledge into practise, and it really was so easy to set the van up for leisure/sleep, I must note that the pop up roof extension can be a little cold (even with the leisure heater) so if, like my fiancée, you are prone to a chill, I recommend converting the rear seats into the bed.
Returning the van and handover was nice and easy.
Overall I can't recommend FSC enough, communication was spot on, the van was amazing, the service was first grade.
I'd love to do the NC500 again and spend more time around the coast seeing more of the beautiful landscapes, when that time arises, I know who I'm calling.
Take the trip, use FSC and you won't regret it.
---
Linda – Aberdeen – August 2020
(5 / 5)
Had a fantastic trip in the California Ocean camper van. it was well kitted out for all our needs, you literally only need your clothes and toiletries. The team at Four Seasons were very helpful during the booking, pick up and return. Even accommodating us when we had to reschedule. No hesitation in recommending and we will be rebooking.
---
Ronnie and Anita – Birmingham – August 2020
(5 / 5)
We would just like to say a massive thank you for your service and friendly nature towards helping us enjoy our first ever campervan trip. We both loved the van so much we can't stop talking about it. We will surely recommend you and Fourseasons to our friends and colleagues.
Thanks, Ronnie and Anita
---
Mikey – UK – July 2020
(5 / 5)
With the current C-19 situation now is the time to take that staycation in Scotland and Four Seasons campers are a fabulous company to explore all the wonderful places. We had never been on a camper van holiday in our lives, but the communication from FS was fantastic throughout that I felt I'd driven one before I'd even arrived. The handover was quick, clear and (importantly with the current situation) very safe. The California Ocean was so fun to drive, it had all the mod cons, was comfy to sleep in for a family of four and really felt like our home by the end of the trip. We'll def be back some day!
---
Pete and Rachel – Scotland – July 2020
(5 / 5)
As campervan rookies we were not sure what to expect of a campervan holiday before our trip. From emailing an initial enquiry, to the day we dropped off the van post road-trip, we were very well looked after by Liz and the FSC team.
As it was post-lockdown some campsites were not running full services and Liz had compiled and updated a list of open campsites and their facilities for us. This saved us a great amount of time and made the whole experience easier and more enjoyable to organise.
On picking up the van Louise gave us a great handover walk-through of how the vehicle worked.
The camper itself was equipped with everything you could need and extra thoughtful touches like some lovely locally made shortbread.
Now we are camperfans, we would definitely look to book with FSC again in the future.
Thanks again for everything,
Pete & Rachel.
---
Emma S – Scotland – July 2020
(5 / 5)
We couldn't recommend Liz, Louise and the rest of the team any more. We booked up with Four Seasons to escape the chaos of COVID as the world started to open up again and we had the most amazing 4 nights exploring parts of Scotland that we had never seen before. The service was second to none and our camper was perfect. They couldn't have done more for us when arranging the booking or setting off and we knew they would be at the end of the phone if we needed them from the road (luckily we didn't). We absolutely loved the adventure feel that our trip gave us and we were grateful to have a roof over our heads when the heavens decided to open. We took their advice and followed one of the routes from the website and it gave us some amazing stops and camping spots en route. We haven't stopped talking about the trip since – we will definitely be back, it's not an if its a when!
---
Franck B – UK – July 2020
(5 / 5)
Third time I have booked with four season campers, and it has been a great experience again. I recommend them.The van was new, they are flexible on dates, always trying to adapt to your changes. Then driving up North and wild camping around spots that you would not usually go too, experiencing wilderness, and discovering alleys, mountains, coastal villages, the dream.
Thanks again.
---
Steve – UK – July 2020
(5 / 5)
My daughter and I had a great adventure exploring the northwest of Scotland in one of Four Season's campervans.
We were so impressed with how well kitted-out they were and, how much they managed to cram in!
It was surprisingly easy to drive, even on the super narrow and twisting minor roads.
---
Mark – March 2020
(5 / 5)
We thoroughly enjoyed our holiday with the campervan, it met all our needs and we would come back again.
The team were in contact with us often and were there to help if we needed, really very excellent customer service!
We took our camper out on the NC500 and Skye and we loved it, thoroughly recommended!
---
Thys- Canada- December2019
(5 / 5)
Super friendly. Responsive. Kitted out the van with everything you'd ever need. Top notch company and service! And I lead tours for Nat Geo year-round so I've seen many tour operators.
We brought the kids over for an epic road trip to the Outer Hebrides and Skye and were so pleased with the van. It had everything we needed and was the perfect home away from home–and the perfect hideaway when the midges got too intense.
Great service and top notch operation. Lovely helpful service. Liz is terrific.
---
Joan- Canada- December2019
(5 / 5)
Myself and my two sisters (all of us from Canada) recently went on a trip of a lifetime together in "Ellie". We traveled for 3 weeks around Mull, Skye, Lewis and Harris and it was wonderful. Our van was well-stocked, clean and modern. Liz is so friendly and welcoming as well as sincere in her wanting to make sure you have the best possible experience for your holiday. We also met Ann and Louise, both members of the staff, who were so knowledgeable and absolutely lovely to deal with! If we can ever return to Scotland for another trip, you can be sure we will look no further and will without a doubt rent from Four Seasons again, in a heartbeat
---
Jackie- England- November 2019
(5 / 5)
After booking and working out the route for our "World Tour of Scotland " we flew into Glasgow airport
Ann picked us and took us back to base in Lucy our van for the week
We had the handover in the pouring rain and set off on our adventures
The VW Californian was easy to drive even in some challenging conditions and the right size for the roads and were really pleased that we hadn't gone for a bigger motorhome type vehicle
We had some chilly nights but were warm and cosy and the sun shon on us in the days
The van was very well equipped and Liz and her team gave us a friendly and excellent service
We will be back to make more wonderful memories
Just got to download about 1000 photos!
---
Ross- Scotland- November2019
(5 / 5)
Four Seasons team reallly looked after us brilliantly. VW California camper van was 1st class for our trip to the North West of Scotland. Highly recommended for getting away from it all…
---
October2019
(5 / 5)
A fabulous starting point for a trip around a very picturesque area of Scotland. The van was immaculately clean and well equipped. Both Liz and Ann were very knowledgeable about routes and campsites.
---
Shirley and Mike – England- October2019
(5 / 5)
What an experience! Fantastic! We hired a camper for a week, 2nd October. Our try before we buy kind of a holiday. We did most of the west coast 500, with a few diversions. We had beautiful weather for five of the seven days. A couple of very windy nights but we were well protected in our Jobl! I want one! I think my husband might take some persuading, so it may have to be another holiday with Four Seasons! Thank you Liz and Ann for a terrific time! We'll be back!!
---
Samantha- Scotland – October2019
(5 / 5)
Liz and her team say they go the extra mile to provide a great service but I think she is being modest, because they really go the extra 100 miles! From ease of booking to a comprehensive handover and pleasurable stay in their clean, well-equipped and easy to drive camper-vans, this is the perfect way to tour Scotland. Liz has even though of every detail so there are no hidden extras and she provides an extensive list of suggested places to camp, including wild camping and campsites all over Scotland.
I have already recommended them to a couple of friends. Looking forward to another trip soon!
---