Read our 5 Star Camper van Customer Reviews before you book your next camper van holiday
Customer satisfaction is of paramount importance to us and the reviews from our customers are testimony to the personal care and advise we offer, as well as the quality of our camper vans. Whether you are new to holidaying in a camper van, or have never visited Scotland before, we are on hand with advise and support to ensure that you have a relaxing and memorable camper van holiday and get the most out of your tour around Scotland. Our campervans have been thoughtfully kitted out with everything you need for your camper van holiday and our pricing includes all essential equipment to allow for easy booking and payment of your holiday. Take a look at our campervan customer reviews below or look at our camper van customer reviews on our Trip Advisor Page by clicking here.
---
Thys – Canada – December 2019 [usr 5]
Super friendly. Responsive. Kitted out the van with everything you'd ever need. Top notch company and service! And I lead tours for Nat Geo year-round so I've seen many tour operators.
We brought the kids over for an epic road trip to the Outer Hebrides and Skye and were so pleased with the van. It had everything we needed and was the perfect home away from home–and the perfect hideaway when the midges got too intense.
---
---
Jackie – England – November 2019 [usr 5]
After booking and working out the route for our "World Tour of Scotland " we flew into Glasgow airport
Ann picked us and took us back to base in Lucy our van for the week
We had the handover in the pouring rain and set off on our adventures
The VW Californian was easy to drive even in some challenging conditions and the right size for the roads and were really pleased that we hadn't gone for a bigger motorhome type vehicle
We had some chilly nights but were warm and cosy and the sun shon on us in the days
The van was very well equipped and Liz and her team gave us a friendly and excellent service
We will be back to make more wonderful memories
Just got to download about 1000 photos!
---
---
---
Shirley and Mike – England – October 2019 [usr 5]
What an experience! Fantastic! We hired a camper for a week, 2nd October. Our try before we buy kind of a holiday. We did most of the west coast 500, with a few diversions. We had beautiful weather for five of the seven days. A couple of very windy nights but we were well protected in our Jobl! I want one! I think my husband might take some persuading, so it may have to be another holiday with Four Seasons! Thank you Liz and Ann for a terrific time! We'll be back!!
---
I can recommend Four Seasons Campers 100%.
From the first contact, all the way through the hiring process (paperwork) to picking up the vehicle was first class.
Picking up the vehicle was painless, a thorough explanation of all the parts and switches. The equipment inside is more than you might need, but def enough to cover wild camping.
---
---
September 2019 [usr 5]
---
---
---
---
Virginie – France – August 2019 [usr 5]
Exceptional experience thanks to an exceptional team and an exceptional country! We loved everything! the use of the campervan, the campsites, the landscapes, the people… Thanks to Louise for her good mood and kindness and especially her perfect French;) ! We'll be back as soon as we can.
---
---
---
Amanda – Scotland – June 2019 [usr 5]
An amazing friendly company! We rented a camper for our 2 week honeymoon. Our first van's fridge did not work so the owners arrived the NEXT DAY on THE ISLE OF BARRA with a replacement van?! Of course we had to therefore make extra use of this luxury and thoughtful gesture – we filled it with even more champagne and gin and tonics and toasted Four Seasons! Exemplary x
---
---
---
Shane- England – May 2019 [usr 5]
Fantastic campervans, super-friendly people. We only wished we'd booked a longer trip. These guys are great and made for a stress-free adventure. We already want to return and won't bother looking at alternatives. Can't recommend highly enough.
---
Carlos- Valencia, Spain – May 2019 [usr 5]
Liz and her team do everything possible to make everything perfect. Outstanding service
Julie – London – April 2019 [usr 5]
Fantastic van – super service
We had such a good trip. Liz was really helpful from start to finish. The van was brilliant and we felt confident heading off that everything had been well explained to us. The California is really comfortable for 2 adults and 2 kids and was stocked with absolutely everything we needed. I really recommend Four Seasons and really hope that we will be back sometime.
---
Alasdair – Renfrew, Scotland – April 2019 [usr 5]
Excellent Camper Experience
The campervan hire was booked as part of my son's birthday present and it certainly didn't disappoint! The booking process is fairly straightforward and easy to do.
The location of the campervan hire place is a bit of out the way but that just adds to the whole overall experience and it's not that hard a place to find, just watch out for the large Lorries heading to the recycling centre! I got given a very comprehensive tour of the campervan, its fittings and functions before I was let loose in it. This tour is well worth it as there are a lot of things within this van and it is really helpful if it's your first time in this type of campervan.
This just wasn't a 'plain' van either, as pretty much everything is included with the van from bedding to cutlery and the coffee and milk is a real welcome help! It's perfect if you just want to get away for a few days as all you need to think about is what you want to do about food.
The staff at four seasons are really easy and nice to deal with. They were really friendly and helpful throughout the whole process from booking, picking up and to dropping off the van after the weekend.
The van itself was spotless when we picked it up and really well appointed. It is easy to drive and my son found the infotainment screen very easy to use! The only thing missing on the van was cruise control but that was a really minor point.
---
Kevin – London – April 2019 [usr 5]
Excellent Service, fantastic van
We rented a VW California for a four day trip around Skye. Liz and her team were really helpful, firstly by offering us an itinerary including great places to stay and eat and advice to book ferries in advance and secondary, allowing us a late drop off. The van itself was in tip top condition and we were only the second people to have it. It was equipped with super cosy duvets, pillows and blankets and all the condiments one would require. There were no hidden costs and Liz had thought of everything. The van was the perfect size for the tiny, windy roads of Skye and the ferries to and from. Even though we picked up a flat tyre in the far north of Skye, the puncture was fixed within the hour! Picking and dropping off the van in Balloch was much easier than having to drive the van through the Glasgow traffic. Take the train from Glasgow, it's about 50 minutes, and you're starting your adventure at the end of Loch Lomond!. We booked our return trip by train from London 6 weeks in advance with a Family Rail Card and it was only £131.00. We'll definitely be coming back, we would have like another week! Thank you Four Seasons Campers!
---
Katherine – California USA – April 2019 [usr 5]
Outstanding experience, travel in luxury, adventure of a lifetime
Road trip to the Scottish Highlands and Outer Hebrides with Four Seasons Campers in a 2018 California VW Campervan. Luxurious driving experience. Outstanding experience from start to finish. It's a family business with a very personal touch. Liz (the owner) was an invaluable resource and helped plan our entire trip, taking us to hidden parts of Scotland. She was so kind and knowledgeable. The van was equipped with everything you could possibly need, every home from home comfort for sleeping & cooking. Plenty of room in the van for our family of four with our two young children. The children loved every minute, especially sleeping upstairs in the pop-up bedroom. The highlight of the trip was Harris and its incredible beaches. We were so sad to return the van at the end of the holiday, so much so that we will be booking again this year! Don't hesitate to book with Four Seasons Campers – they're the best. Thanks Liz.
---
Jim and Karen, Inverness Scotland, April 2019[usr 5]
Highly recommend Four Season Campers. This was our first venture and from the moment Liz and Ivan showed us the ropes we had a ball. The quality of the Van and equipment was first class. The Camper was spotless and equipped with everything we needed , right down to playing cards for those cosy evenings. Fully fuelled when we picked up we travelled more than 400 miles before we had to fill . The benefit of compact . Clever design makes the most of all the space available. Great trip to Skye in comfort. Will book again .
---
Jemma, Wales, April 2019 [usr 5]
Had a wonderful trip around Skye & spent our last night at Camusdarach. Fabulous service from Liz, Ivan, and the rest of the team 👌🏼 Will definitely be back (unless Gem has bought her own before then). Thanks once again
---
Martin, England, April 2019 [usr 5]
Had a great 8 days in Woody a brandy new Ocean – California. Very well equipped, warm at night and so easy to drive. Helpful staff and pickup / collection at local train station. We will definitely be back to explore and have another adventure.
---
Laura, Hampshire England, March 2019
5 [usr 5] holiday and experience!
We hired a VW California for a week in March. This was our first time in a campervan and after a fantastic week away, we will definitely be doing it again! Liz and Ivan were so friendly and helpful from start to finish and even en route!
Travelling in the 'off season' meant we had a variety of weather and not a lot of campsites were open, but Liz and Ivan were just a call or email away, ready to recommend places to stay and visit if we got stuck!
They'd thought of everything for the van – we looked around at some other companies before booking with Four Seasons but decided to go with them because so much was included and there were no hidden extras in terms of cost! The bedding was comfortable, the starter pack of tea and coffee, milk etc was brilliant and the tour of the van to start with was great – Ann and Ivan were clearly very familiar with how it all works and top tips etc.
Ann and Liz picked us up from Balloch station and dropped us off at the end of the week, making a seamless trip!
We can't wait to come back!
---
Jackie – England – November 2018 [usr 5]
Absolutely Amazing ! Don't look anywhere else !
5* service from enquiries to collection of camper. Nothing is too much trouble for Liz and Ivan. They really have a fantastic business model. The client is No 1 . In a world when customer service seems to be dwindling , this thriving business could teach the bigger travel companies a thing or two. Luxurious campers, sumptuous bedding, lavish interiors. You really don't feel your in a camper , more like a mini 5* Hotel room. I spent 5 nights with my eldest daughter (14), we had so much fun on the open roads, visiting many undiscovered places , take it day by day. You can be as busy or chilled as you like. Liz and Ivan have some great holiday routes and will also help plan your itinerary to suit. If you like the personal service and individual touches, book four seasons. We have booked campers before and we won't book anywhere else now. It's an adventure , the camper gives you lots of freedom to explore , park up and take in the scenery . Thanks for looking after us Liz and Ivan xx
---
Mary – England – November 2018 [usr 5]
Amazing Experience, great price – Four Seasons Covered everything
My partner and I took a three night trip in a campervan over the Easter Break in 2018 with Four Seasons. We did not know what to expect as it was out first time hiring a van. On arrival we discovered we had a brand new VW van and Four Seasons really thought of everything we could possible need. We were shown how to operate everything in the van, and the van really did have everything! A fridge, heater, water, hobs, table, lights, not to mention all the extras provided by Four Seasons which included a starter pack of essential which included much more than you would expect. We could of turned up with just our clothes and we were good to go. There was bedding, towels, BBQ including outside tables and chairs and tools and cutlery / crockery and pans etc. This all made for an excellent stress free trip. We were given suggestions on where to visit and maps and were also told to call any time should we hit any problems (which we didn't because Four Seasons had already thought of everything). In regards to places to visit I would recommend Arisaig beach – amazing white sand and turquoise water and the views on route are amazing. Stop at Fort William on route and do the Steal Falls walk if you enjoy a good hike. We went on to Aviemore after and stayed on a gorgeous campsite named Glenmore, another amazing spot with a lake one side and snowy mountains to the other where you can take the funicular railway to the top and enjoy the views from the cafe – you can also ski if you are into that – we just had a coffee!! Next day we traveled down and stayed at Loch Lomond, one of our favourite spots in Scotland, also highly recommended and it was close to where we were dropping off the van. Highly recommend Four Seasons to anyone.
---
Best way to hire a camper van
Hired a Jobl van from Four Seasons Campers for a week. We had an amazing, if rainy, week made so much better by an amazing service from Liz and Ivan. Collecting the van was really easy, it was equipped with everything you could need for a Scottish holiday and absolutely no hidden costs. We loved exploring Scotland in the van and all the tips and recommendations from Liz and Ivan were greatly appreciated. We'll be back – wouldn't hire a van from anywhere else!
---
John – Australia – November 2018 [usr 5]
Just Wonderful
John – England – November 2018 [usr 5]
---
Alex – California – October 2018 [usr 5]
We've rented camper vans from several other companies over the years. Liz and Ivan are at the top. Excellent communication from start to end. High end and well maintained campers. No surprises; all included. Friendly and helpful advice. Liz and Ivan are rare entrepreneurs who built a business around their passion. It shows. Five stars.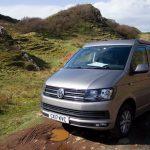 ---
Jenny-England- October 2018 [usr 5]
"What a wonderful experience"
This was our first campervan holiday and we found booking with Liz was so easy and she was so helpful with all forms of information including several different routes that we could take plus places to visit and places to stay. The campervan was fantastic and supplied with everything that you could possibly think of and need during your holiday. On arrival at Glasgow airport we were met by Ivan and a friendly and very informative handover was done. Off we went. After our first day of beautiful views and castles we stopped at Oban campsite, which Liz had recommended. We popped the roof up and set ourselves up for our first night. The campervan was very comfortable. Everything worked beautifully and we were surprised how roomy and comfortable we found the campervan. We had a wonderful week's holiday. The weather was, as expected for September, changeable but it didn't deter us and we had great fun. Currently we have a boat which we don't have time to use because we are restricted with weather and tides etc, etc. We were so impressed with the campervan that we now have the boat up for sale and, if we are successful in selling it, we will be looking for a campervan of our own. But if we are not successful in getting our own campervan we will definitely be back booking with Four Seasons and would highly recommend them to anybody.
---
Caroline-France-October 2018 [usr 5]
"Such a wonderful experience"
We rented a van with Liz and Ivan to travel in the Highlands and we had a wonderful time! Their vans are perfect, well furnished, cozy. And Liz and Ivan are very nice. Very hepful before the trip answering all my questions and very accomodating for pickup and checkout time. We stayed the first night at their b&b, the place is very nice and the breakfast absolutely amazing. If you plan to travel in Scotland and rent a campervan, don't hesitate just go for them!
---
---
Rozmin-England-October 2018 [usr 5]
Scotland in a VW Campervan
Our very first camping trip of any sort. Liz was amazing and so very helpful. We drove up to Skye and then Applecross and then to Fort William and back to Four Seasons to drop off over 4 days. The VW is well kitted out and good fun. Tip Don't take too much food with you – much easier to eat locally. We would definitely do it again. Liz and Ivan are great people to deal with and they look after their VW's.
---
Andy-Scotland-September 2018 [usr 5]
Great van, Ivan and Liz thought of everything
Took a van with our 2 kids to Mull for a long weekend. What an amazing time, van life is great. Mull was awesome with cool (free) camp sites. The kids just loved it. The van has everything you need, Ivan and Liz really have thought of everything, even the things you didn't know you needed. Thank you. Now looking to buy our own van!
---
Mervyn-England-September 2018
Wow-the best campervan hire experience..!!
Liz and Ivan go the extra mile to ensure this is the best campervan hire experience. Attention to detail and friendly/efficient service were par excellence.Highly recommended.
---
Karen-Canada-September 2018 [usr 5]
The BEST part of our entire vacation
---
---
View our California Campervans
---