Read our 5 Star Customer Reviews before you book your next camper van holiday
Customer satisfaction is of paramount importance to us and the reviews from our customers are testimony to the personal care and advise we offer, as well as the quality of our camper vans. Whether you are new to holidaying in a camper van, or have never visited Scotland before, we are on hand with advise and support to ensure that you have a relaxing and memorable camper van holiday and get the most out of your tour around Scotland. Our campervans have been thoughtfully kitted out with everything you need for your camper van holiday and our pricing includes all essential equipment to allow for easy booking and payment of your holiday. Take a look at our customer reviews below and on our Trip "Advisor Page by clicking here.
---
Jackie – England – November 2018
(5 / 5)
Absolutely Amazing ! Don't look anywhere else !
5* service from enquiries to collection of camper. Nothing is too much trouble for Liz and Ivan. They really have a fantastic business model. The client is No 1 . In a world when customer service seems to be dwindling , this thriving business could teach the bigger travel companies a thing or two. Luxurious campers, sumptuous bedding, lavish interiors. You really don't feel your in a camper , more like a mini 5* Hotel room. I spent 5 nights with my eldest daughter (14), we had so much fun on the open roads, visiting many undiscovered places , take it day by day. You can be as busy or chilled as you like. Liz and Ivan have some great holiday routes and will also help plan your itinerary to suit. If you like the personal service and individual touches, book four seasons. We have booked campers before and we won't book anywhere else now. It's an adventure , the camper gives you lots of freedom to explore , park up and take in the scenery . Thanks for looking after us Liz and Ivan xx
---
Mary – England – November 2018
(5 / 5)
Amazing Experience, great price – Four Seasons Covered everything
My partner and I took a three night trip in a campervan over the Easter Break in 2018 with Four Seasons. We did not know what to expect as it was out first time hiring a van. On arrival we discovered we had a brand new VW van and Four Seasons really thought of everything we could possible need. We were shown how to operate everything in the van, and the van really did have everything! A fridge, heater, water, hobs, table, lights, not to mention all the extras provided by Four Seasons which included a starter pack of essential which included much more than you would expect. We could of turned up with just our clothes and we were good to go. There was bedding, towels, BBQ including outside tables and chairs and tools and cutlery / crockery and pans etc. This all made for an excellent stress free trip. We were given suggestions on where to visit and maps and were also told to call any time should we hit any problems (which we didn't because Four Seasons had already thought of everything). In regards to places to visit I would recommend Arisaig beach – amazing white sand and turquoise water and the views on route are amazing. Stop at Fort William on route and do the Steal Falls walk if you enjoy a good hike. We went on to Aviemore after and stayed on a gorgeous campsite named Glenmore, another amazing spot with a lake one side and snowy mountains to the other where you can take the funicular railway to the top and enjoy the views from the cafe – you can also ski if you are into that – we just had a coffee!! Next day we traveled down and stayed at Loch Lomond, one of our favourite spots in Scotland, also highly recommended and it was close to where we were dropping off the van. Highly recommend Four Seasons to anyone.
---
Catherine- England – November 2018
(5 / 5)
Hired a Jobl van from Four Seasons Campers for a week. We had an amazing, if rainy, week made so much better by an amazing service from Liz and Ivan. Collecting the van was really easy, it was equipped with everything you could need for a Scottish holiday and absolutely no hidden costs. We loved exploring Scotland in the van and all the tips and recommendations from Liz and Ivan were greatly appreciated. We'll be back – wouldn't hire a van from anywhere else!
---
John – Australia – November 2018
(5 / 5)
Back home for some weeks now. Photo albums printed, poster prints ready for framing. A wonderful holiday to south west Scotland and the Outer Hebrides made possible by Four Seasons Campers.
The VW camper was beautifully prepared, clean and well equipped. This our fourth hire of a motor home in the UK and the first with Four Seasons. We decided the larger vehicles we went for in the past were just too much trouble to manoeuvre on the narrow roads and difficult to park in towns so much so that they took the edge off the day. The VW solved this especially on the ferries between islands.
The camper came with everything we needed, the bed was comfortable, storage adequate. Liz and Ivan stored some unneeded gear for us while we were away which made life on the road even easier.
Pick up and drop off was smooth and easy
Would we do it again with Four Seasons? Tomorrow if we could!
---
John – England – November 2018
(5 / 5)
Excellent quality van and backup from the owners. They allowed early pickup and drop off as it was low season. I can highly recommend them. A bonus was the price when compared to other operators was excellent, especially since they are 2018 vans.
---
Alex – California – October 2018
(5 / 5)
We've rented camper vans from several other companies over the years. Liz and Ivan are at the top. Excellent communication from start to end. High end and well maintained campers. No surprises; all included. Friendly and helpful advice. Liz and Ivan are rare entrepreneurs who built a business around their passion. It shows. Five stars.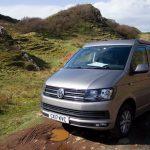 ---
Jenny-England- October 2018
(5 / 5)
This was our first campervan holiday and we found booking with Liz was so easy and she was so helpful with all forms of information including several different routes that we could take plus places to visit and places to stay. The campervan was fantastic and supplied with everything that you could possibly think of and need during your holiday. On arrival at Glasgow airport we were met by Ivan and a friendly and very informative handover was done. Off we went. After our first day of beautiful views and castles we stopped at Oban campsite, which Liz had recommended. We popped the roof up and set ourselves up for our first night. The campervan was very comfortable. Everything worked beautifully and we were surprised how roomy and comfortable we found the campervan. We had a wonderful week's holiday. The weather was, as expected for September, changeable but it didn't deter us and we had great fun. Currently we have a boat which we don't have time to use because we are restricted with weather and tides etc, etc. We were so impressed with the campervan that we now have the boat up for sale and, if we are successful in selling it, we will be looking for a campervan of our own. But if we are not successful in getting our own campervan we will definitely be back booking with Four Seasons and would highly recommend them to anybody.
---
Caroline-France-October 2018
(5 / 5)
We rented a van with Liz and Ivan to travel in the Highlands and we had a wonderful time! Their vans are perfect, well furnished, cozy. And Liz and Ivan are very nice. Very hepful before the trip answering all my questions and very accomodating for pickup and checkout time. We stayed the first night at their b&b, the place is very nice and the breakfast absolutely amazing. If you plan to travel in Scotland and rent a campervan, don't hesitate just go for them!
---
---
Rozmin-England-October 2018
(5 / 5)
Our very first camping trip of any sort. Liz was amazing and so very helpful. We drove up to Skye and then Applecross and then to Fort William and back to Four Seasons to drop off over 4 days. The VW is well kitted out and good fun. Tip Don't take too much food with you – much easier to eat locally. We would definitely do it again. Liz and Ivan are great people to deal with and they look after their VW's.
---
Andy-Scotland-September 2018
(5 / 5)
"Great van, Ivan and Liz thought of everything"
Took a van with our 2 kids to Mull for a long weekend. What an amazing time, van life is great. Mull was awesome with cool (free) camp sites. The kids just loved it. The van has everything you need, Ivan and Liz really have thought of everything, even the things you didn't know you needed. Thank you. Now looking to buy our own van!
---
Mervyn-England-September 2018
"Wow-the best campervan hire experience..!!"
Liz and Ivan go the extra mile to ensure this is the best campervan hire experience. Attention to detail and friendly/efficient service were par excellence.Highly recommended.
---
Karen-Canada-September 2018
(5 / 5)
---
---
View our California Campervans
---