Frequently Asked Questions when booking a campervan holiday
If you've never booked a campervan holiday before, you will likely have lots of questions about both the booking process and how the campervan works whilst you are away. Please see below information and frequently asked questions on our campervan security deposit, campervan insurance, pet policy, our highly specified VW campervans and much more. You can also find more information on the spec of our VW campervans on our VW Campervan page on our website. If you have any questions, please email us at bookings@fourseasonscampers.com or call us 01389 830602.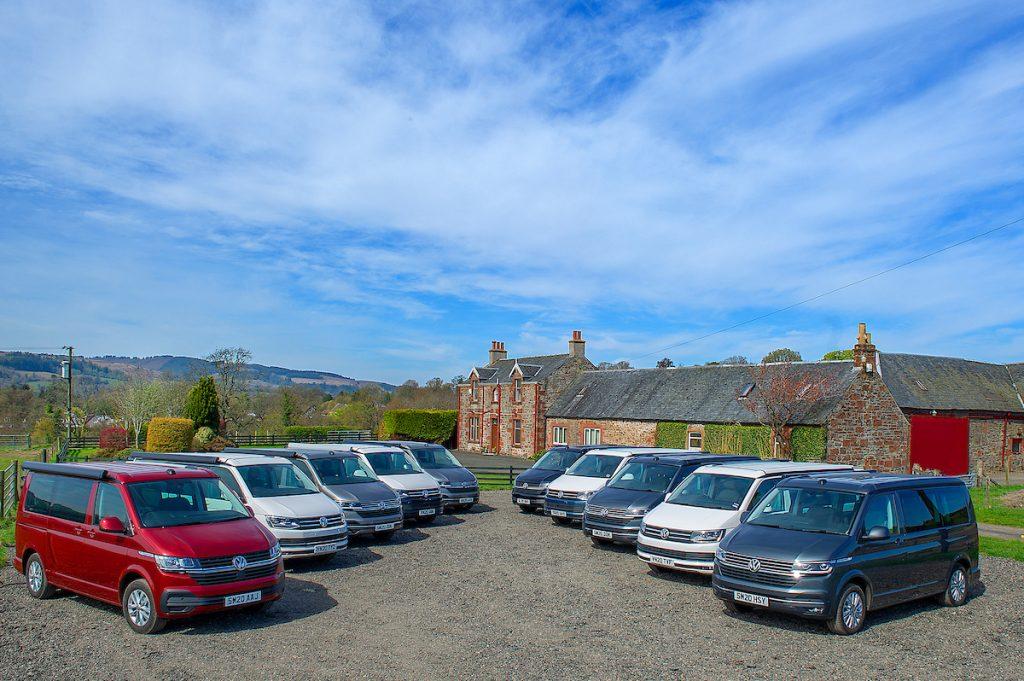 We want to take our dog on our campervan holiday – do you allow pets in the campervan?
We love animals but in the interests of cleanliness for all hirers, we cannot accept pets without prior approval and dependent on breed. There is an additional £30 cleaning charge for pets and we request that they are not left in the campervan on their own and that they are not allowed on the seats.
Are taxes and VAT included in your pricing?
Yes our campervan rental prices are the total cash price including UK taxes that you have to pay to hire a campervan with us. This includes all bedding and towels, BBQ, outdoor furniture, kitchen equipment and starter pack, Sat Nav, maps, camping gas and unlimited mileage in the UK and unlimited drivers. For a full list of what is included in your campervan hire and optional extra's please visit our Campervan Equipment page on our website.
Campervan Security Deposit – How much is it and why do I have to pay it? When is it returned?
A refundable security deposit of £750* is payable 4 days prior to collection of the campervan and will be held automatically on your preferred payment card. The security deposit will then be released automatically 7 days after the return date, provided that the vehicle is returned in a clean and undamaged condition with a full tank of fuel and no traffic offences or parking tickets have been incurred. The refundable security deposit can be paid by credit or debit card and funds must be showing before we release the vehicle for your campervan holiday.
*This can be more for drivers with licenses outwith the UK, EU, Canada, USA, Australia and New Zealand. We will contact our insurers before your booking is confirmed to check the cost for you. Drivers with a high number of road offences may also incur a higher security deposit. There is an additional excess of £200 for drivers age 23 to 25.
The deposit covers the campervan insurance excess. If you have any damage to the vehicle , you will be liable up to this amount before the insurance pays. The only reason you wouldn't be covered by the insurance is if you do not adhere to the terms and conditions of the insurance which can be found in our Terms and Conditions on our website (things like driving off road, driving under influence of alcohol etc.) If you do damage the vehicle , we will get a quote and you will only pay for the damage plus any cost to us to get it fixed ie time to take vehicle to get fixed and fuel plus days off rental fleet. This will only be up to the limit of the security deposit unless you have not adhered to our terms and conditions.
For more information on our Security Deposit, please read our Terms and Conditions on our Rental Agreement page of our website.
Campervan Insurance – Who can be insured on our Campervan Holiday with Four Seasons Campers?
The Campervan is insured for drivers between 23 and 75 years of age and we have unlimited drivers insured on our campervans at no additional charge.
An insurance excess of £750 is applicable to all UK license holders.
An insurance excess of £950 is applicable to drivers aged 23- 24 years old.
An insurance excess of £750 is applicable to all non-UK license holders subject to approval by Four Seasons Campers insurance company. An additional excess can sometimes be requested for countries outwith Europe, US, Canada, Australia and New Zealand.
The campervan insurance excludes drivers over 75 years of age and under 23 years of age.
The campervan insurance excludes drivers with less than 24 months full UK or EU license experience.
What does the insurance cover me for on my campervan holiday?
The Campervan is insured for damage to the vehicle and the property of a third party.
The security deposit paid will be set against the cost for any damage to the vehicle with Four Seasons Campers customers liable up to the value of the security deposit paid for the insurances excess.
The customer will not have any insurance cover and is responsible for the total cost of any damage if they are in breach of the terms as stated and signed for in 'Four Seasons Campers Terms and Conditions.'
I do not hold a Full UK Driving Licence as I live in another country. Am I eligible to drive your VW campervans?
Drivers from Australia, Canada, United States and New Zealand and the majority of European countries are also eligible. If you are from outwith these countries, please get in touch and we will call our insurers to check that your license is eligible for campervan rental in the UK. There is sometimes an additional excess for countries not listed above.
What online security measures do you have on your website booking system?
Our online booking system is powered by Wheelbase which is owned by Outdoorsy.com with payments taken through their Merchant account Stripe. Each account is locked down with a 256 bit SSL certificate and includes advanced security scanning and firewall. Every account operates in a segregated database environment and utilizes military grade encryption. Wheelbase systems are PCI DSS compliant.
How many campers does a Four Seasons Campers campervan comfortably sleep?
Our VW campervans are 4 berth campervan so can legally carry four passengers with four seat belts. There is a fold down double bed from the rear passenger seats and a bed in the roof space of the campervan that can accommodate either one adult, two light adults or two children. There is a maximum weight of 150kg for the roof bed in our Jobl campervans but no limit on our California Oceans which are factory made.
Can you help me plan my campervan holiday tour and recommend informal/wild camping spots?
We would be delighted to help you plan your Scottish tour in our campervan.  Due to the increased popularity of campervanning in Scotland we would recommend that you book as many campsites in advance as you can. We have a list of recommended campsites and informal camping spots for our customers. Please read advice on CAMPA's website regarding informal camping which should not be confused with wild camping under canvas. There is a link on our homepage.
Can I smoke in the campervan?
In the interests of cleanliness for other customers we have a no smoking policy and will retain ALL of the security deposit if the vehicle is returned with evidence of smoking in it.
Can I leave my car with you?
Yes, we offer free parking at Four Seasons Campers for our customers. Customers can park their car in our carport. Please note that vehicles are left at the owners risk.
Can you pick us up from Glasgow and Edinburgh airport?
Yes, we offer transfer from both Glasgow and Edinburgh airport as well as Glasgow, Edinburgh and Stirling railway stations. There is an additional charge for this. We also offer free pick up and drop off at Balloch railway and bus station.
What is the average mpg for the campervan?
Average mpg is approximately 40mpg to 45mp. Our start-stop engine makes for a very economical drive and it is possible to get 50mpg if motorway driving.
In regards to the 230v plugs do these only work when your hooked up to a electric supply in a campsite or will they work anytime ?
230v plugs only work when hooked up. When wild camping electrical goods can be plugged into the 12V socket. The fridge runs on 12v battery whilst the heating runs off diesel and 12v battery for the fan. The hot water in our Jobl campervans requires 230v hook up to work as does the three pin socket and usb port in the rear of the vehicle. The USB port on the front dash board runs of the vehicle battery and can charge your devices whilst driving.
Does the water tank normally last the week or would we have to find somewhere to refill this?
Our water tank in our Jobl VW campervan holds 60lt of water. Our water tank in our California Ocean VW Campervan holds 30lt of water. Most of our customers find they need to fill up with fresh water in the campervan every 3 to 4 days dependent on use. The waste tanks holds 30lt.
I will be booking ferries to Scotland's islands, what is the size of your VW campervan?
Our VW campervans are short wheel-based and 4.9m long. When booking tick the 4.6 -5.0 m length box for your ferry journey. Please remember to add on another meter if you have hired the bike rack.
I'm booking some campsites for my campervan holiday. Do I need to book a hard standing with power?
The battery charges by both hooking up to electricity at your campsite and by driving the vehicle. If you are going to be stationary for more than a couple of days then I would hook up but if you are going to be driving each day then the battery will keep charging. We recommend that our campers charge their leisure battery with electrical hook up a minimum of once every three days to give it a good charge. Re hard standing, the vehicles are relatively light compared to large motorhomes so as long as it's not very wet conditions and the pitch is not on some kind of steep slope then you should be fine with a grass pitch.
I have never driven a campervan before. Will I be given instructions?
Yes, we will talk you through driving and parking of the campervan plus use of gas and heating and use of electric hook up. We also have a comprehensive guide for you to take away and you can call us if you have any problems. The campervan is very easy to drive but you should be aware of wing mirrors as Scottish roads can be very narrow at points. Please note that our Jobl campervans are manual gearbox and our VW California campervans have automatic gearbox. All of our campervans have stop/start engines for better fuel economy.
What support do you offer during our campervan holiday?
We offer 24 hour support for our customers out on hire. Should you require advice or help during your rental, we ask you to contact us directly by phoning 01389 830602. If you call out of normal office hours, we will ask you to leave a voice mail and a member of our crew will call you back immediately.
In the unlikely event of a breakdown, the Hirer should notify us immediately and we will organise for VW Breakdown to attend, details of which are provided in Four Seasons Campers rental guide in the campervan. All our campervans are covered by VW Breakdown Assistance.
Can I extend the period of hire during our campervan holiday?
Dependent on availability, you may extend the hire. Written request and confirmation is required to extend the rental period through email and additional hire charges must be received by Four Seasons Campers prior to commencement of new dates.
Do you hire your campervans all year round?
Yes, we are available to hire all year round (except Christmas Day and Boxing Day) meaning that you can explore Scotland and see amazing snow topped mountains in winter as well as beautiful rhodedendrons in May and stunning autumn colours in October. We have winter tyres on all of our vehicles until the end of February.