A camping holiday should be stress free and Four Seasons Campers has included all essential campervan equipment in the price of your hire to ensure you arrive relaxed and ready for your adventure!
Take a tour around our well-equipped Jobl campervan (all equipment also included in our California)

Equipment Included in your Campervan Hire for our California Ocean and Jobl campervan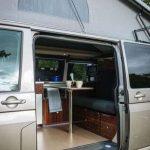 Hiring a campervan should be a relaxing and enjoyable experience and at Four Seasons Campers we believe it is the little things that count. This is why we have tried to think of everything to ensure that we offer our customers a unique and comfortable camping experience. We appreciate that after a long and active day touring and enjoying the spectacular Scottish scenery, you need rest and recuperation and we hope that we have thought of everything to allow you to unwind in the comfort of our campervan.
Bedding and Towels
Outdoor Furniture and BBQ
Camping Gaz
Sat Nav
Road and Ordinance Survey Maps
Safety Equipment
Kitchen Equipment
For your safety we provide a fire blanket, fire extinguisher and carbon monoxide alarm.
Our California Campervans come with Isofix fittings in rear bench seat for your own Isofix car seats
Additional Equipment for your Campervan holiday
Bike rack £25 per hire
Porta Loo £20 per hire
Bikes £60 per hire
Child Car seats from £3 per day
Child Safety net for upper roof bed £10 per hire
Bedding and Towels for the Campervan
Our pretty stag patterned duvet and pillows are a cosy addition for your trip and save you the hassle of having to bring your own. All linens, duvets, pillowcases, blankets and towels for up to four people can be included in your hire and fit snuggly in the rear of the Campervan.
Outdoor Camping Equipment
We include outdoor furniture in the cost of your campervan hire charges . A folding table and chairs plus BBQ with tong set let you make the most of your camping experience and fit snugly in the rear cupboard of the campervan.
Camping Gas
Gas for the campervan is included in the cost of your hire. A campinggaz refillable cylinder is located in the cupboard in the rear of the campervan along with a smaller campinggaz cylinder for emergency use if your campinggaz runs out. We ask that you replace the cylinder if it runs out and we will refund you when you return from your hire.
Unlimited Mileage
We have unlimited mileage within the United Kingdom
Unlimited Drivers
Our refundable Security Deposit covers you for up to four drivers per hire with no additional costs for additional drivers.
Flexible Check-In
Pick up is from 3pm with drop off by 10.30am however please let us know if you require an alternative time and we will endeavour to accommodate your timings if there is availability.
Starter Pack – Campervan Essentials
To save you time and expense we have included a free starter pack located in the kitchen of your campervan. Our starter pack includes milk, tea, coffee, sugar, water, matches, tea towels, washing up liquid, cleaning detergent, toilet roll, bin bags and chemical toilet liquid.
VW Campervan Kitchen Equipment
The Campervan comes with a compact kitchen with 2 storage units plus additional storage located under rear passenger seats. Our campervan is well stocked with 4 dinner plates, 4 side plates, 4 bowls, 4 mugs,4 plastic tumblers, 4 wine glasses, 1 cafetiere, 6 knives, 6 forks, 6 spoons and 6 teaspoons. Also provided are 1 tin opener, 1 bread knife, 3 sharp knives, 1 scissors, 1 potato peeler, 1 wooden spoon, 1 fish slice, 1 tongs, 1 draining spoon, 1 cork screw. For campervan cooking we provide 1 small pot with draining lid, 1 large pot with draining lid, 1 non-stick sauté pan with lid, 1 colander.
Maps and Sat Nav
Included in your hire are a variety of road maps as well as our integrated Satellite navigation system in our 2017 and 2018 VW campervans, to help you tour around Scotland without getting lost! We also have a large selection of Ordinance Survey maps available to borrow at no additional charge.
Safety Equipment
For your safety we provide a fire blanket, fire extinguisher and carbon monoxide alarm.
Porta Loo
The Porta Loo fits snugly under the rear passenger seat in our VW Jobl campervans and in the boot of our VW California campervans. It is available to hire for £20 per hire
Bike Rack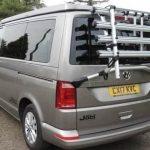 Our bike rack fits up to 4 bikes and is available to hire for £25 per hire.
Our campervan bike rack folds up neatly on rear of vehicle when not in use.
Bike Hire
Adult bikes are available to hire for £60 per bike per hire.
Child Car Seat
We have two child car seats available to hire for £3 per day or £15 per week per car seat.
Child Safety Net for Roof
We can provide a child safety net for babies and toddlers in our California Campervan for an additional £10 per hire.