Our ethos is 'hassle free camping' and so we've done absolutely everything we can to ensure that you want for nothing, before and during your holiday. From making your booking, to planning your trip, to packing for your holiday, to organising your pick up time and location, to learning the essentials about your campervan before you set off; we've thought of everything to offer you a seamless campervan experience. Our campervans come fully equipped with all camping essentials and quality campervan equipment to ensure a unique and comfortable camping experience. A camping holiday should be stress free and wherever you are travelling from, be assured that you can travel light when you hire a campervan from Four Seasons Campers.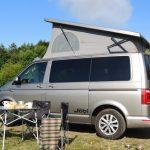 Bedding, Safety Equipment, Road Maps and more.....
| | Camping Equipment Essentials | Included |
| --- | --- | --- |
| Bedding | Duvet, Sheet, Mattress Cover, Pillow | ✓ |
| Towels | Quick Dry Travel Towels or fluffy - your choice | ✓ |
| Outdoor Table and Chairs | | ✓ |
| BBQ and BBQ Utensils | | ✓ |
| Road Maps | Road Atlas and Folding Map of Scotland | ✓ |
| Camping Gaz | Used for 2 Gas Hobs for cooking | ✓ |
| Kitchen Equipment | Plates, bowls, wine glasses, cups, mugs, cutlery, Cafetiere | ✓ |
| Kitchen Equipment | Kettle, Pots/Pans, Colander, Knives, Cooking Utensils, Corkscrew and Tin Opener | ✓ |
| Starter Pack | Tea, Coffee, Milk, Bottled Water, Matches, Toilet Roll and Condiments | ✓ |
| Safety Equipment | Fire Extinguisher, Fire Blanket, Carbon Monoxide Alarm | ✓ |
| Cleaning Equipment | Cloth, dishcloth, dustpan and brush, wash basins, disinfectant spray and washing up liquid | ✓ |
| Electrical Hook Up Cable | | ✓ |
| Hose | For fresh water refill | ✓ |
Additional Campervan Equipment For Hire
| | Price |
| --- | --- |
| Porta Loo and Tent | £30 per hire |
| Memory Foam Mattress Topper | £30 per hire |
| Bike Rack | £30 per hire |
| Dog Cleaning fee for additional cleaning | £30 per hire |
| Cosy Blanket - May to Sept | £10 per hire |
| Cosy Blanket - Oct to April | Free of Charge/Included in Hire |
| DVD Player | £20 per hire |
| Toaster (California) | £10 per hire |
| Child Car Seat | £20 per hire |
| Child Safety Net | £10 per hire |
| Pop Up Storage Tent | £10 per hire |
---
Take a tour around our well-equipped Jobl campervan (all equipment also included in our California
Bedding and Towels for the Campervan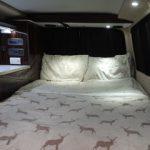 Our pretty stag patterned duvet and pillows are a cosy addition for your trip and save you the hassle of having to bring your own. All linens, duvets, pillowcases and towels for up to four people can be included in your hire and fit snugly in the rear of the Campervan. Cosy blankets are also included in hires from September to April or can be hired at an additional charge of £10 per blanket from May to August.
Camping Equipment for Outdoors
We include outdoor furniture in the cost of your campervan hire charges . A folding table and chairs plus BBQ with tong set let you make the most of your camping experience and fit snugly in the rear cupboard of the campervan. Up to 4 chairs fit snugly in the rear of the Jobl Campervan whilst the California Ocean table sits in the side door with 2 chairs in the boot door. We will supply an additional 2 folding camping chairs if 4 people are travelling.
Camping Gas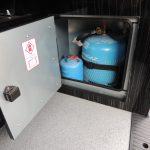 Gas for the campervan is included in the cost of your hire. We ask that you replace the cylinder if it runs out and we will refund you when you return from your hire.
Starter Pack – Essential Camping Equipment for your Campervan hire
To save you time and expense we have included a free starter pack located in the kitchen of your campervan. Our starter pack includes milk, tea, coffee, sugar, water, matches, tea towels, washing up liquid, cleaning detergent, toilet roll, bin bags and chemical toilet liquid. Please note that due to COVID-19 and your safety, we only supply our starter packs on request but these remain free of charge.
VW Campervan Equipment for the Kitchen
The Campervan comes with a compact kitchen with 2 storage units plus additional storage located under rear passenger seats. Our campervan is well stocked with 4 dinner plates, 4 side plates, 4 bowls, 4 mugs,4 plastic tumblers, 4 wine glasses, 1 cafetiere, 6 knives, 6 forks, 6 spoons and 6 teaspoons. Also provided are 1 tin opener, 1 bread knife, 3 sharp knives, 1 scissors, 1 potato peeler, 1 wooden spoon, 1 fish slice, 1 tongs, 1 draining spoon, 1 cork screw. For campervan cooking we provide 1 small pot with draining lid, 1 large pot with draining lid, 1 non-stick sauté pan with lid, 1 colander and 1 kettle for that essential cup of tea or coffee!
Maps and Sat Nav
Included in your camping equipment are a variety of road maps as well as our integrated Satellite navigation system in our VW California campervans, to help you tour around Scotland without getting lost! Our Jobl's (and our California's) have VW Connect for you to connect your android or Apple phone through Android Connect or Apple Connect with your USB to access Google maps on your phone.
Safety Camping Equipment for your Campervan
For your safety we provide a fire blanket, fire extinguisher and carbon monoxide alarm.
Additional Camping Equipment for your Campervan holiday
Portable DVD Player
Our Portable DVD Player plugs into the 12V socket and costs £20 per hire.
Porta Loo
The Porta Loo fits snugly under the rear passenger seat in our VW Jobl campervans and in the boot of our VW California campervans. It is available to hire along with our porta loo tent for £30 per hire. We provide a variety of makes including Fiamma and Thetford. The fresh water is stored in the top canister and sits above the waste canister. A simple pump is used to flush the fresh water down into the bottom compartment.
Pop up Tent for Porta Loo, Walking Gear and Dog Equipment

This easily stored pop up tent offer privacy for your porta loo and a great addition for any wild camping expeditions! Included when you hire a Porta Loo for free.
The pop up tent also offers additional space for your walking gear and is perfect for storing dog bowls etc if you have your best friend with you! Cost of hire is £10.
---
Camping Equipment for Cyclists
Bike Rack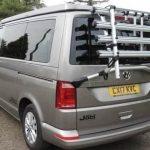 Our VW bike rack fits up to 4 bikes and is available to hire for £30 per hire.
Our VW campervan bike rack folds up neatly on rear of vehicle when not in use.
---
Camping Equipment for Children
Child Car Seat
Our car seats are available to hire for £20 per car seat per hire.
The Madrid Car seat is a Group 0+/1 combination car seat:
Suitable for rearward facing travel from birth to 10kg with newborn insert
Suitalbe for forward facing travel from 9kg to 18kg
3 seat recline positions and a 5 point harness with individual harness tensioners for added safety
Deep wide wings with side impact protection
Secured into campervan with a 3-point seatbelt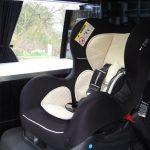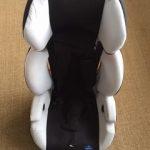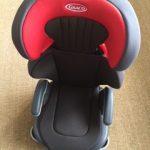 The Graco Junior Maxi Booster Car Seat:
Suitable for approx 4 years (15kg) up to approx 12 years (36kg)
Height adjustable headrest
Height adjustable armrests
Backrest reclines in two positions
Secured into campervan using 3-point seatbelt
Can be used as booster only seat
Child Safety Net for Roof
We can provide a child safety net for babies and toddlers in our California Campervan for an additional £10 per hire.