Looking for an autumn adventure? Why not enjoy nature's own spectacular light show this autumn and take a road trip for some Aurora Hunting and find the Northern Lights in Scotland!
What are the Northern Lights?
The Aurora Borealis, commonly known as the Northern Lights, is only seen above the magnetic north pole of the northern hemisphere and is caused by gaseous particles in the Earth's atmosphere colliding with charged particles released from the sun's atmosphere to create a stream of green, pink, red, yellow and violet that arches and bends with an eerie glow that consumes the northern night sky.
Where is the best place to see the Northern Lights in Scotland?
Scotland offers the perfect place to view this humbling other-worldly mystical rainbow of colour that intermittently lights up our autumn and winter sky. Highly unpredictable, a campervan road trip offers the perfect way to follow the light and ensure you can make it to the next sighting in time! The best places to see the Northern Lights around Scotland are the North West and East Highlands of Scotland, Orkney, Aberdeenshire, Morayshire, Skye and the Outer Hebrides, although you can also see it as far south as Loch Lomond from time to time. Places such as Applecross, Lochinver and Uig on Skye offer great view points and the scenery is spectacular whether you see the Northern Lights or not!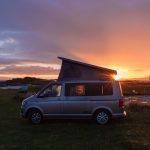 How do I know where to find the Northern Lights?
There are a number of great websites http://www.aurora-service.eu/aurora-forecast/ and apps 'My Aurora Forecast – Aurora Alerts Northern Lights' or follow @Aurora_Alerts and @aurorawatchuk for Twitter alerts that help you follow the Northern Lights trail across Scotland and highlight probability as well as location of having a siting of the Aurora.
What if I book a campervan and there aren't any Northern Lights to be found?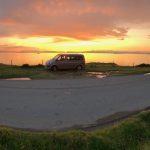 A clear sky is required to see the Aurora Borealis but even if you aren't lucky enough to see the Northern Lights then with a clear sky you will be equally rewarded with a spectacular night sky peppered with a spectacular display of stars and planets. Scotland offers one of the largest expanses of dark sky in Europe and is home to Europe's second dark Skye Park as well as a number of Dark Sky Discovery Sites.
Where is the best place to see stars in Scotland?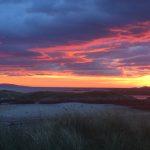 The Galloway Forest Park in southwest Scotland is 777km2 and has very little light pollution. Only 90 minutes' drive south of Glasgow, the Galloway Forest Park is a great place to take a road trip around in a campervan and enjoy not only the dazzling night sky but also the nearby Dumfriesshire beaches that stretch from Annan to Stranraer. The Scottish Dark Sky Observatory near Dalmellington offers two powerful telescopes and an observatory viewing platform or you can just find a quiet camping spot and enjoy the display from the comfort and cosiness of your campervan with a wee dram in hand!
The Speyside area around Tomintoul and Glenlivet also offer a great place to view the night skies and have recently earned the prestigious award by becoming Scotland's second International Dark Sky Park and the most northerly Dark Sky Park in the world. A fabulous area for wild camping, the north east is generally dry in autumn and winter and the perfect place to enjoy a road trip. The North East 250 https://www.northeast250.com/ is a spectacular route and as well as the sparkling stars at night, you can also enjoy a variety of wild life that come down the Cairngorm mountain range through September to graze in warmer pastures.
So, whether you enjoy the delightful dance of the Northern Lights or the mesmerising sparkle of Scotland's dark sky, you won't regret taking a road trip around Scotland in autumn and winter. With quieter roads and the changing colours of nature, a campervan is the ONLY way to truly see Scotland at it's best at this time of year. I think this little quote sums it up nicely….….
"I will love the light for it shows me the way, yet I will endure the darkness because it shows me the stars."