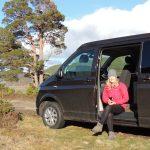 As the world discovers how beautiful Scotland is there is an increasing influx of visitors arriving in Scotland every summer looking to enjoy the delights of our stunning scenery and the warmest of welcomes from us friendly Scots! When the sun shines in Scotland there really is no where more beautiful in the world. However the summer warmth comes at a cost and if midges and crowds aren't your thing then it might be much more preferable to visit Scotland in autumn, winter or spring …as long as you're prepared and happy to bring some warmer clothing.
In my opinion, two of the best months to visit Scotland in a campervan are September and October. Apart from the departure of the famous Scottish midge, there are are also a number of other positives to the cooler weather. As nature prepares for our long cool winter, she creates an amazing vista of reds, oranges and yellows as the leaves prepare to fall in late September and early October. As winter beckons lochs, obscured in the summer months by trees, come into view, and you can easily park up at that stunning viewpoint without vying for space with coach loads of tourists.
If you're still not convinced, take a look at our list of pros and cons re hiring a campervan out of season. It is definitely worth considering as long as you take into account the following advice as you plan your trip.
Check which campsites are open. Many campsites close at the end of October, particularly in the North, and don't open again until Easter. There are many campsites still open but make sure you have enquired about their check in times….many will be on winter hours so you may have to pick up a key somewhere. On the upside, unlike the summer months, you're guaranteed to get booked. There's also the added advantage that you can book for one night at a time whereas in the summer months, many campsites give a minimum of 2 nights campervan booking
Be flexible with where you decide to tour depending on the weather. I generally advise moving in from the coast in the late autumn and winter months as the winds can be icy at this time of year…particularly on the islands. Conversely, I suggest camping around the coast during the summer months to avoid the worst of the midges…a light breeze helps keep them at bay!
3.Pick your campervan wisely when hiring a campervan off season. Check what type of heating system your campervan has as well as how well insulated it is. Campervan heating systems run on gas or diesel. Gas is absolutely fine but is more expensive so remember to add this cost onto the cost of your holiday. Four Seasons Campers campervans are extremely well insulated and have diesel heating to ensure that our vehicles are cosy in all seasons. If you are planning to rent a campervan in the depths of winter then it's also a good idea to ask for snow socks or winter tyres. You never know when there might be snow in the highlands so best to be prepared.
4. If you hire a campervan over December and January, be prepared for extreme conditions further north. If temperatures are very low, it might be wise to drain your fresh water tank and take bottled water to avoid it freezing over. The heat from the engine whilst driving and heating in waking hours will keep it warm but if temperatures are extreme then you might be best to drain your campervan fresh water supply.
5. A top tip for those cooler nights is to take a hot water bottle with you to save you getting up in the middle of the night to turn the heating on. It's an easy and practical solution to a comfortable and cosy night's sleep when hiring a campervan in winter in Scotland!
6. Check your ferry times and ring the ferry company to see if you should book in advance depending on time of year. Whilst booking ferries in the summer months is a must (I've had campers told that the next ferry to Skye is in 3 days over the summer months!) it does get considerably quieter into October but best to check, just in case! Also double check which timetable is in use as all the ferries have winter timetables with some ferries not running to certain locations on the islands at certain times of year.
7. If heading far north, check not only what campsites are open but also what tourist attractions are open at this time of year. Look at the National Trust and Historic Scotland websites to see what's open…there is still a lot open …but best to check rather than have a wasted drive. Scotland is renowned for it's Highland Games but it is increasingly becoming known for its winter light displays. Events such as The Enchanted Forest in Perthshire which runs from the 29th September to 30th October 2022, are increasingly popular so make sure you book your tickets and your campervan early!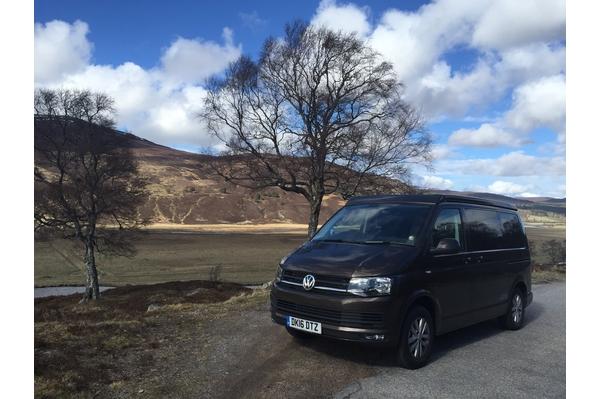 8. Make shorter journeys each day when travelling in a campervan in the winter months in Scotland. Daylight hours are considerably shorter in the winter months with it getting dark as early as 3.30pm in the far north! Make sure you allow plenty of time to get to your campsite or wild camping spot before dark.
9.Autumn and winter are the best time of year to see the Northern Lights in Scotland. The aurora can be seen anywhere in Scotland when the conditions are right and when light pollution is at a minimum. We've been fortunate enough to see it at Four Seasons Campers base by Loch Lomond and it is truly spectacular!! There are certain places to visit that you are more likely to see the northern lights such as Shetland, Orkney, Caithness, Aberdeenshire, Moray Coast, Lewis, Harris, northern tip of Skye, Applecross and Lochinver, so be sure to include them in your campervan tour in the winter…just in case!!!
10. For the not so hardy campers, make sure you have a couple of nice Inns on your list to camp beside….whilst your campervan should be cosy….it may not be quite so cosy nipping out to the loo over the course of a wet and blustery winter night and a welcoming cosy inn with a fire may be in order. Best Inns to camp beside in Scotland include The Applecross Inn, The Glenelg Inn, and The Clachaig Inn at Glencoe (my gran and grandad used to run it!) For a fine dining experience, try Inver Restaurant by Strachur.
As Glaswegian comedian and actor Billy Connolly once said, "There are two seasons in Scotland, June and winter. In Scotland, there's no such thing as bad weather, only the wrong clothes." So get the wellies and the woollies out and book that campervan break today!