Give the gift of adventure this year and treat your loved ones to a touring holiday in one of our luxury all-inclusive VW Campervans. The perfect gift to brighten up the dark days of winter, our campervan gift vouchers start from as little as £50 and our minimum hire is from £315 for 3 nights.
Buy a Gift Voucher for your loved one and we will plant a Caledonian Pine Tree in our Grove in Glen Affric and display your loved ones name on our Treesforlife website page!!!
Ideal for newbie explorers or experienced campers, a campervan trip is on EVERYONE'S bucket list! Whether you fancy escaping the crowds and doing some hillwalking or wild swimming; explore our incredible historic buildings; or take in a sunset from the comfort of your camper.
Our Campervan Gift Vouchers are the best gift for Birthdays, Anniversaries, Wedding Gifts and Romantic weekends away!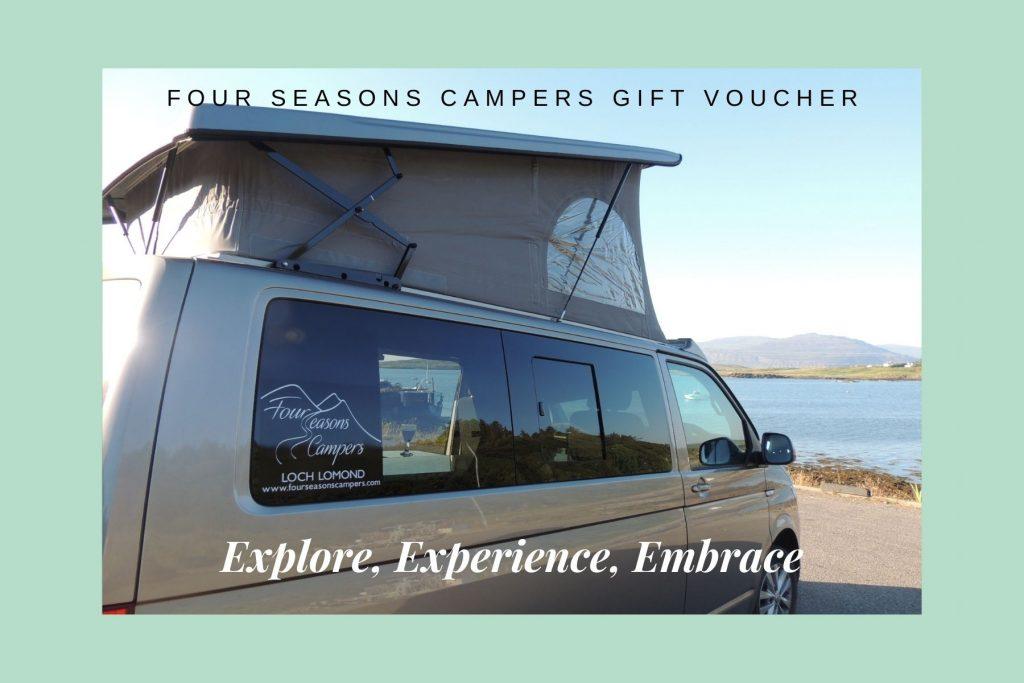 ---
We have a minimum 3 nights hire with rental prices starting from £315. Gift Vouchers are available from £50 to the value of your choice. Please note that hirers must be aged between 23 and 75 and there is a refundable security deposit payable by the hirer to cover the insurance excess. More details and T&Cs can be found on our website.
You can purchase your Gift Voucher in 3 easy steps:
Decide how much you would like to spend and simply make a payment via our Four Seasons Campers PayPal Account (Please note you do not need a PayPal account to do so and can use a credit or debit card.) Please use your name followed by GV as your reference
Once payment has been made, send us an email to bookings@fourseasonscampers to notify us of payment along with your name plus the recipient's name and email address. Please let us know if you would like us to fill in the recipient's name and message on the Gift Voucher or if you would prefer to personalise the voucher yourself.
A perfect gift for brides and grooms to put on their wedding list and get all their friends to chip in with the honeymoon costs!
Add a Four Seasons Campers campervan holiday to your wedding list and have an amazing outdoor adventure holiday in the UK to look forward to!!