Our dog friendly campervans are perfect for taking your gorgeous dogs on holiday with you. With all that fresh air, quiet beaches and mountain trails, how could you leave them at home? We have two labradors, "Tibbs" and "Aura" who love coming away with us in our dog friendly campervans. A holiday wouldn't be a holiday without them which is why we are happy to offer dog friendly campervans for hire for you to bring your well- behaved pet with you on your campervan holiday.
We have a small extra surcharge of £30 in our dog friendly campervans. In order to keep our dog friendly campervans in top quality condition, we ask that you do not allow your dogs up on the campervan seats or leave them unattended in the campervan.
To add your dog to your dog friendly campervan hire booking, please go to our booking page and enter your dates then once you have your quote, simply click Continue and click on Dog Surcharge.
If you have more than one dog, please contact us in advance as some larger dogs may not be suitable for the size of the campervan.
Which of you campervans are dog friendly campervans?
All of our campervans are dog friendly apart from 'HAMISH' and 'TARA' who are our 2022 California Ocean PET FREE Campervans. Our campervans are meticulously cleaned after each hire but if you have a pet allergy we recommend you book one of these PET FREE campervans.
If you are bringing a cage for your dog to sleep and travel in then we would recommend that you hire a Jobl campervan as there is a larger area in front of the rear seat and therefore is a very dog friendly campervan.
The Jobl bed folds down leaving space underneath the bed for a dog bed too so may be the better option if you have a larger dog.
The California rear seat is on runners giving a varied living space according to your needs however, if you are using the downstairs bed that converts from the rear seat then you will need to pull the bed forward leaving less room for a dog bed at night.
The California also has the advantage of having an awning attached which can provide useful cover for dog bowls and equipment.
Both our California and Jobl campervans are dog friendly and have space for your dog
There is space for dogs to sleep in the front cab space of the campervan depending on the size of your dog.
How do I restrain my dog when travelling in one of your Dog Friendly Campervans?
By law, dogs must now be safely restrained when travelling. If you are driving in a car then the dogs can safely stay in the boot space.
Many of our customers have dog seat belts that require the dogs to sit on the seats. For the benefit of our other customers we would prefer that you did not allow your dogs on the seats and brought a bed that will fit snuggly in the campervan or a dog cage. If you do decide that you must use your dog restrainer then we would ask that you bring numerous fresh blankets to cover the seats to ensure that no dog hair goes on the seats – please do not put dog blankets on the seats as it defeats the purpose of keeping dogs off of the seats.
Our favourite Dog Walks around Scotland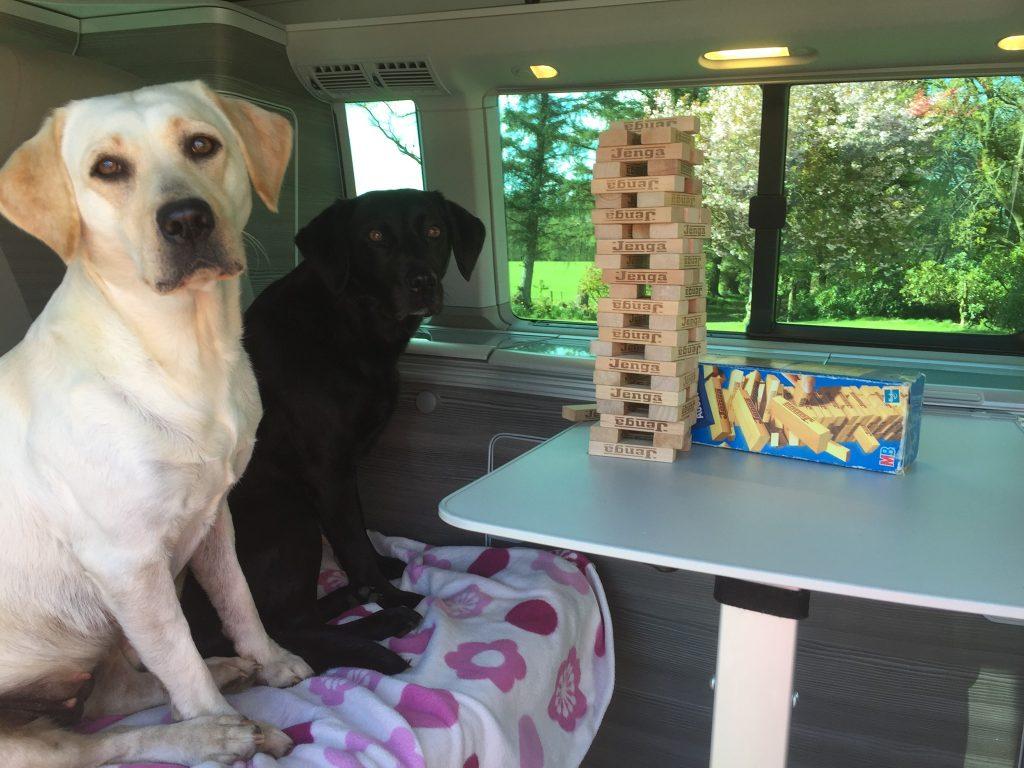 Where do we begin? There are so many walks it's difficult to know where to start but if you, like us, enjoy giving your dogs the freedom to explore and roam then we would recommend a few of the following.
Sandwood Bay in Sutherland is an incredible walk which both you and your best friend will love. A 4 mile walk-in, the long flat walk is worth it when you the most incredible 2 mile long white sandy beach appears on the horizon.
Stronachlachar by Loch Katrine in the beautiful Loch Lomond and Trossachs National Park offers an escape from the crowds at the other end of the loch. Famous for the steam boat that sails its way up and down the loch, there are bikes for hire at the south end and those up for a bit of exercise will make it the 13 miles to Stronachlachar where they can sail back to their starting point.
Loch an Eilean , Rothiemurchus near Aviemore is a lovely 4 mile circular walk around this beautiful loch. Enjoy the canopies of the stunning Caledonian Pine Trees as you gaze out on the castle at the centre of the loch.
Sutherland Grove is north of Oban and a delightfully mystical woodland fantastic for mushroom foraging if you go there at the right time of year. Near another favourite Inn, the Pier House at Port Appin, a walk followed by a pint and some delicious seafood sitting outside with the dog looking across to the island of Lismore is bliss!
Achmelvich to Lochinver is a lovely walk across the headland from the stunning white beaches at Achmelvich (where there is a campsite) across the rock strewn hill and lochans down to the little fishing port of Lochinver. At 5 miles, its a lovely walk for all the family and you can all treat yourself to a pie at the infamous Lochinver Larder where there are at least 30 different pies!
Please note that if you are taking your dog up a hill please be aware of any sheep around the hillside and put your dog on a lead. Likewise, we recommend staying out of fields with any livestock as dogs can cause a lot of distress to them.
Favourite Dog friendly Pubs
Unfortunately not all pubs and restaurants are dog friendly but we have found and tried out some really special ones for your dog friendly campervan holiday.
Glenelg Inn – just over the sea from Skye this wonderful warm and welcoming Inn loves dogs. The owner is a dog lover and you will be made to feel very welcome. With a beer garden overlooking the sea to Skye, this is the perfect place for you and your dog to relax and unwind at the end of a days adventure. Other activities nearby include an old broch; Eilean Donnan Castle and there is actually a small car ferry at Glenelg that you can take to get to Skye the old fashioned way.
Moulin Inn, Hotel and Brewery – located near Pitlochry in Perthshire. This warm paneled bar has a welcoming fire and at times can feel like a puppy training club given the number of dogs there. A bowl of water and treats are always on offer and the full menu available make it an ideal stop after a long walk. Perthshire is blessed with some wonderful forest walks with Ben Vrackie on it's door step and the lovely Black Spout Waterfall near the Edradour Distillery at the other end of town.
The Mishnish Bar and Hotel in Tobermory is a great place to meet the local yachties. Live music is regularly played as well as quiz nights and impromptu jamming sessions.
The Clachaig Inn near Glencoe was run briefly by my Grandad along with my Granny Mac – bubbly fun filled people who were incredibly sociable. With all the hill walkers and campers from the nearby Red Squirrel campsite it's a lively spot to enjoy food, drink and good company.
The Clachan Inn, Drymen in the Loch Lomond & Trossachs National Park is renowned for being the oldest licensed bar in Scotland. Dogs always receive a warm welcome with dog treats and bowls of water readily supplied. A great place to mix with the local banter and mix with an international crowd walking the West Highland Way from Glasgow to Fort William.
A great resource for doggie friendly pubs and campsites for your dog friendly campervan holiday can be found here.